Encoding, multi-bitrate streaming, and adaptive are all very important elements for maintaining excellent user experience and improving quality while live streaming.
Today, we're going to look at these features in terms of Wirecast, a live encoding software. We will take a special look at the Wirecast bitrate settings for Dacast users.
What is an Encoder?
Encoding is a process used to convert the RAW video files captured by a camera into digital files suitable for live streaming over the internet.
Wirecast is an example of a software encoder that is used for live streaming. This means that the encoder feeds digital video files to the streaming platform in real-time.
Setting Up Your Wirecast Encoder 
The most complex part of multi-bitrate streaming with Wirecast is setting up your encoder. You will use Dacast to retrieve some information, and then our adaptive player will automatically detect Wirecast's multi-bitrate settings. 
This tool allows you to provide the best quality stream to your viewers based upon their individual connections.
Steps within Dacast
Click on your channel, and select "Encoder Setup."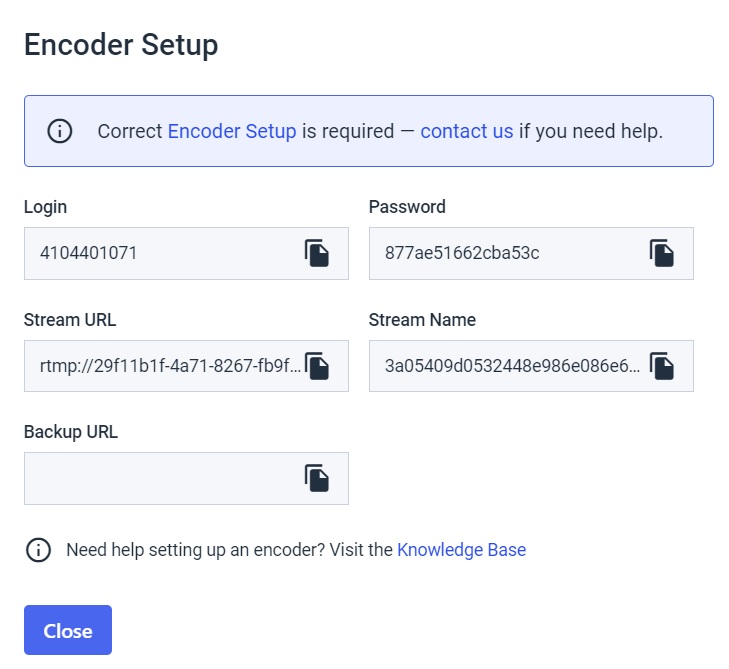 You will now see the window (as noted above) that provides the following information:
Login

Password

Stream URL

Stream Name
Steps Within Wirecast
Log into Wirecast, and open the "Output Settings" window. To do so please click on the black "Stream" icon. This is only required if you have not yet streamed.
Alternatively, press the (CTRL + Y) on or click "Output" then "Output Settings":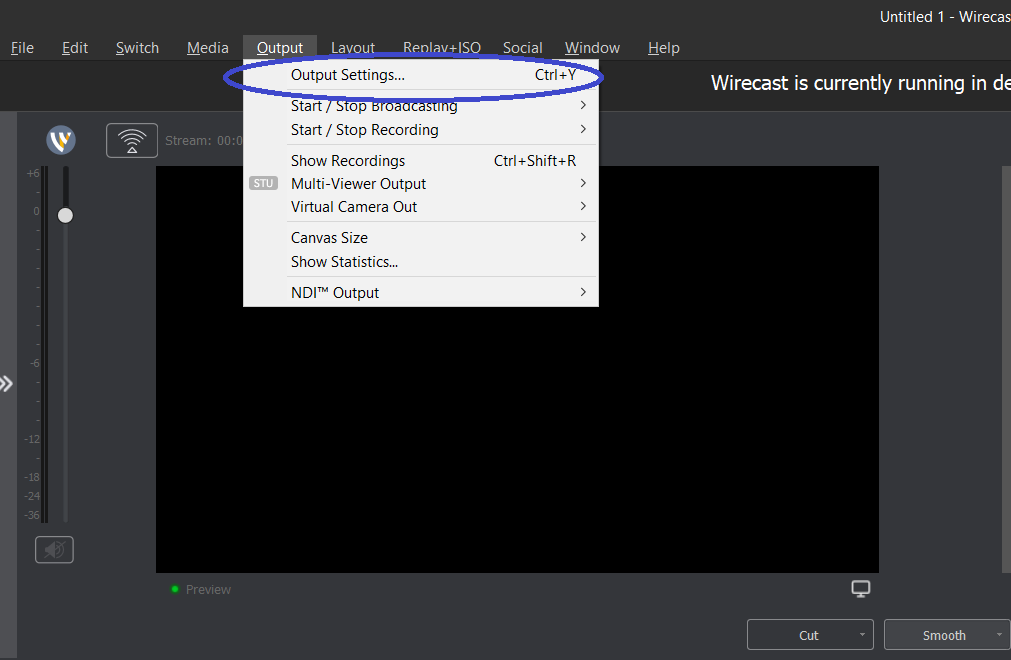 When the window opens, you will be asked to "Select an Output Destination." The destination should be "RTMP Server." Click "OK":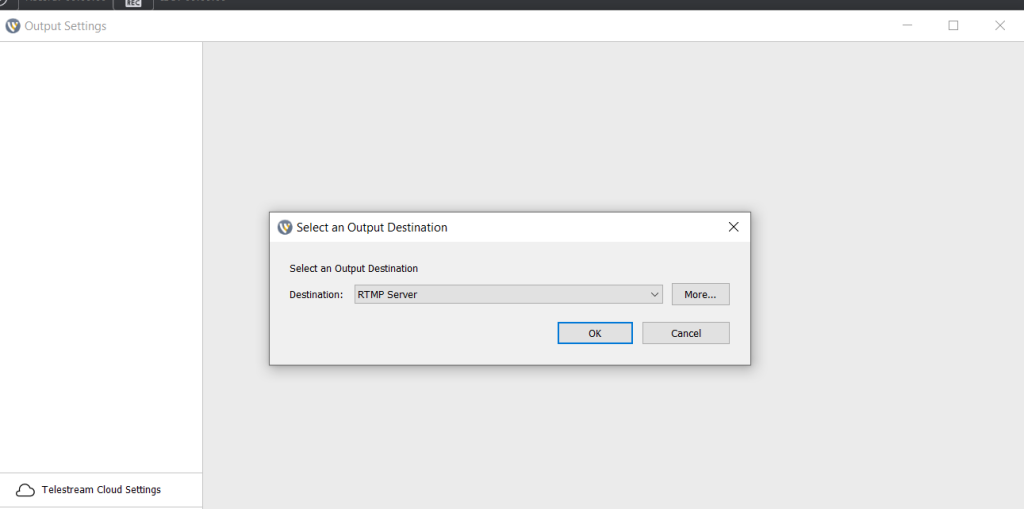 Adding the First Stream
Enter the stream URL and the stream name as shown below. 
Make sure that the stream is correctly set up for HTML5. To do so click on the clockwork icon near the "Encoding" drop-down, and choose "View Details" or "New Preset":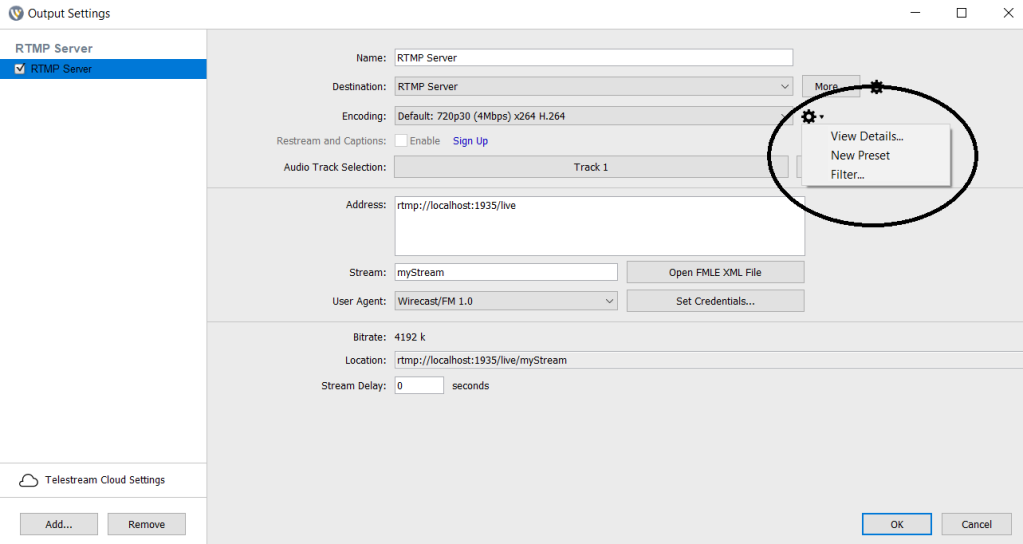 The settings for HTML5 should be the following:
Output Format: FLASH
Encoder: H.264
Width, Height, Frames per second, Average bitrate: your choice
Profile: Baseline
Key frame every: 2 seconds ( double the size of the FPS )
Channels: Stereo
Target bitrate: make your choice
Sample rate: 48 Khz
Click "Save."
Enter the credentials in "Set Credentials" (6-digit login and password).
Adding Multi-Bitrates on Wirecast
The default settings in Wirecast 7 are HD settings, so make sure to customize your settings in order to offer a low, standard, and high definition without running out of bandwidth too quickly. 
The settings for each quality are as follows:
Standard Definition is 480p: 854×480, 500 Kbps – 2 Mbps for video, 128kbps (stereo) for audio

Low Definition is 360p: 640 x 360, 400 Kbps – 1000 Kbps for video, 64kbps(mono) for audio

High Definition is 720p HD 1280 x 720, 1.5 – 4 Mbps for video, 128kbps (stereo) for audio
Also keep in mind that your total bandwidth requirements will be the total of all your streams added together, including both audio and video bitrates. If you plan on recording your stream using our Auto Archiving feature remember that the maximum bitrate is 3.5Mbps in total. 
To add more bitrate, click on "Add":
You will be asked again to "Select an Output Destination." The destination should be "RTMP Server." Click "OK."
The same information as the first stream you created should be entered. You can change the bitrate under "Encoding" by selecting another preset in the dropdown. Don't forget to check if the new preset is set for Wirecast as mentioned above.
You'll also need to edit the Stream name as shown below:
Stream name #1 should be dclive_1_1@123456

Stream name #2 should be dclive_1_

2

@123456

Stream name #3 should be dclive_1_

3

@123456
So in short, it should be in numerical order. The chronological order should always be 1, 2, and 3. 
Enter again the Credentials for each stream. Once you have entered all streams, click "OK." 
Click on the STREAM icon in Wirecast. It will turn a bright neon green color if stream credentials are accepted. 
You will also see the timer start from 00:00:00.
You are ready to start your stream, click "Stream":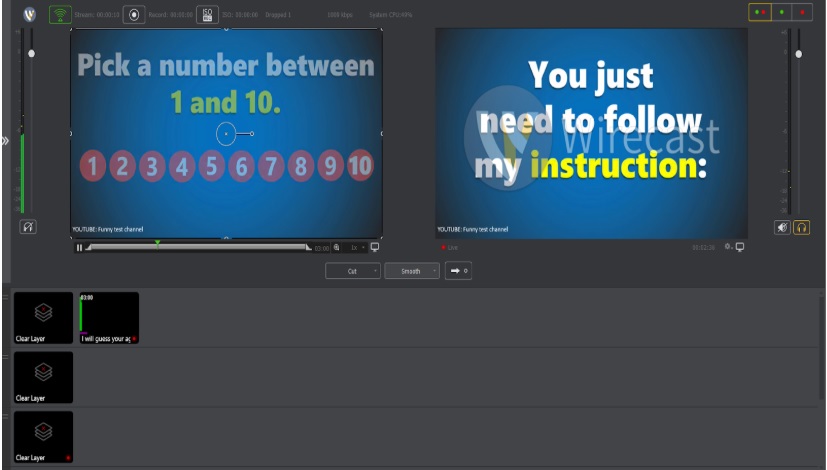 Your viewer should be able to switch from one bitrate to another, by clicking on the GEAR icon located on the left part of the player (near volume icon). 
In this example, we have set this live stream to 480p/360p/240p quality settings:
Required Encoder Settings
Since we just went over the topic of Wirecast Bitrate Settings and Multi-bitrate Live Streaming Configuration, we wanted to include a bit more information on the required encoder settings for live streaming on the Dacast streaming platform.
The following settings are required for live streaming with Dacast, regardless of your selected resolution and bitrate:
| | |
| --- | --- |
| VIDEO CODEC | H.264 (x264 may work) |
| FRAME RATE | 25 or 30 |
| KEYFRAME INTERVAL | 2 secs (or 2x frame rate) |
| SCANNING | Progressive |
| ENCODING BITRATE | Constant (CBR) |
| AUDIO CODEC | AAC |
| AUDIO BITRATE | 128 kbps |
| AUDIO CHANNELS | 2 (Stereo) |
| AUDIO SAMPLE RATE | 48 kHz (48,000 Hz) |
Any questions or need help/access to this feature? Please contact us.
Not yet a Dacast user, and interested in trying Dacast risk-free for 30 days? Sign up today to get started.
Additional Resources