The year is 2020 and professionals are using live streaming solutions more than ever before. In fact, video has become a key component of corporate communications, marketing, sales, business development, and beyond while the world transitions to primarily working from home.
Whichever industry sector you consider, live streaming is booming. More than 4.6 million people watch music festivals via live streams each year.  Likewise, sports live streaming is on the rise, and enterprise video is expected to reach $19.8 billion by 2023. This could grow sustainably this year because of the COVID-19 pandemic and the need to stay home. Just consider how many Zoom meetings you've been a part of since the beginning of this virus.
With the need growing for live streaming solutions, we knew it was time to compare the best in the business. In this article, we review the top 10 live video streaming solutions for professionals.
Please keep in mind that live streaming solutions technology and pricing changes regularly. This post reflects the most accurate information as of August 2020.
Table of Contents:
Live Streaming Services Versus Solutions
What is SaaS Video Streaming
What to Look for in a Streaming Solution
The Top 10 Live Video Streaming Solutions Comparison
Final Thoughts
Our aim here is to help you narrow in on the right streaming solutions for you. Let's begin!
Live Streaming Services Versus Solutions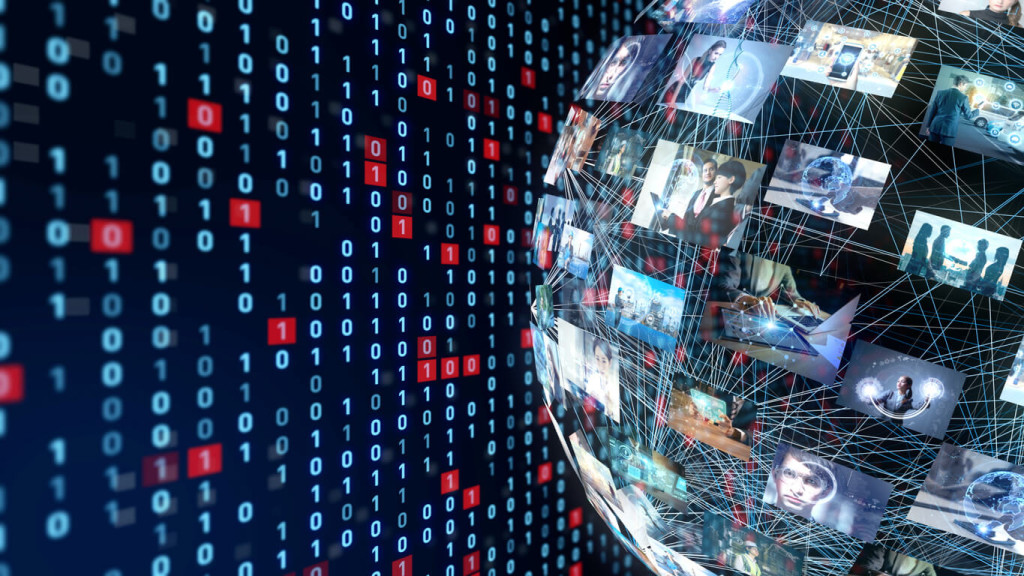 First, we need to begin by answering this common question people have when considering live video streaming solutions. Why use professional-grade live streaming solutions? While there are free services out there like YouTube, you should highly consider a solution instead. YouTube is a service content creators use, Dacast, for example, is a solution for businesses looking to host video content online.
Free live video streaming solutions don't provide much functionality. In addition, free options come with serious privacy and security concerns. They only provide limited or non-existent security features. Monetization is over-simplified or not allowed and support may not be up to your business-standard.
What is SaaS Video Streaming?
Software-as-a-service (SaaS) is a software and delivery model that provides customers with a subscription for their software and the service it provides and lives in the cloud. SaaS has become a common delivery model for many applications that businesses use for their cloud video streaming solutions. Online software, messaging software like Slack, payroll processing software. You get the idea! SaaS video streaming is a piece of software that provides the broadcaster with a service that answers the problem they are having. These streaming solutions that we will be comparing have created video streaming software to provide to the broadcaster.
At Dacast, we are a Streaming-as-a-Service, but more on that in the comparison section.
What to Look for in a Streaming Solution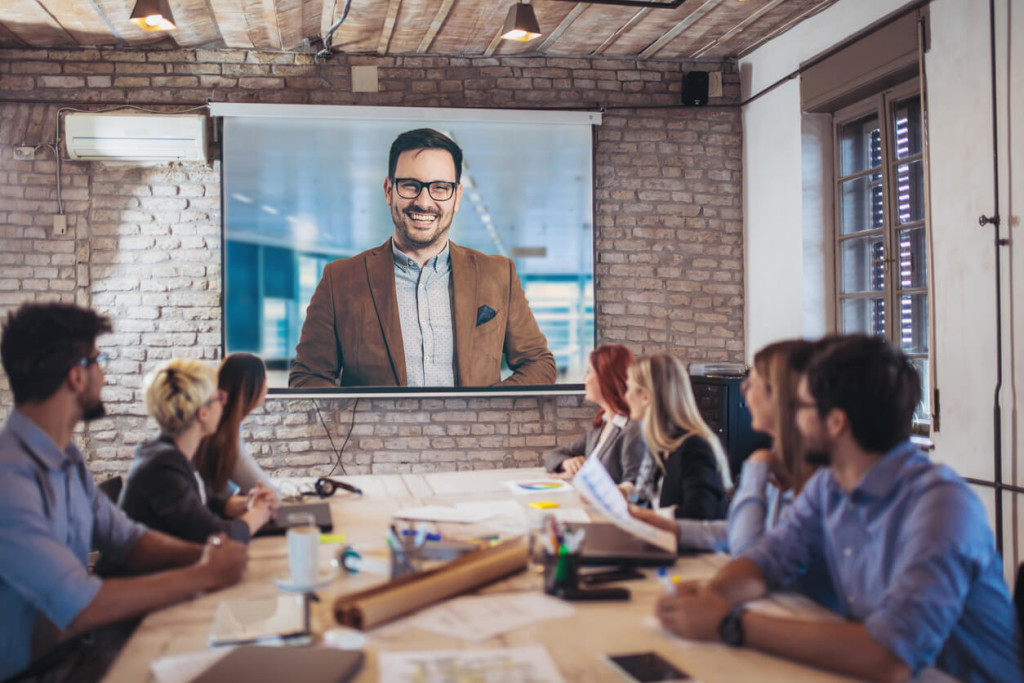 Professional-grade video streaming solutions, however, can turn all of this around. When you're considering which video solution you should use, there are several features to think about.
Security features
Monetization capabilities
Professional video hosting as well as live streaming capabilities
24/7 support system
Price
The Top 10 Live Video Streaming Solutions in 2020 
Each streaming solution is different. They all come with different key features, basic functionalities, and pricing. No corporate streaming solution is perfect, but there is one out there that's right for your business, and now is the time to find it. Take all of this into consideration while we compare the 2020 live video streaming solutions.
1. Dacast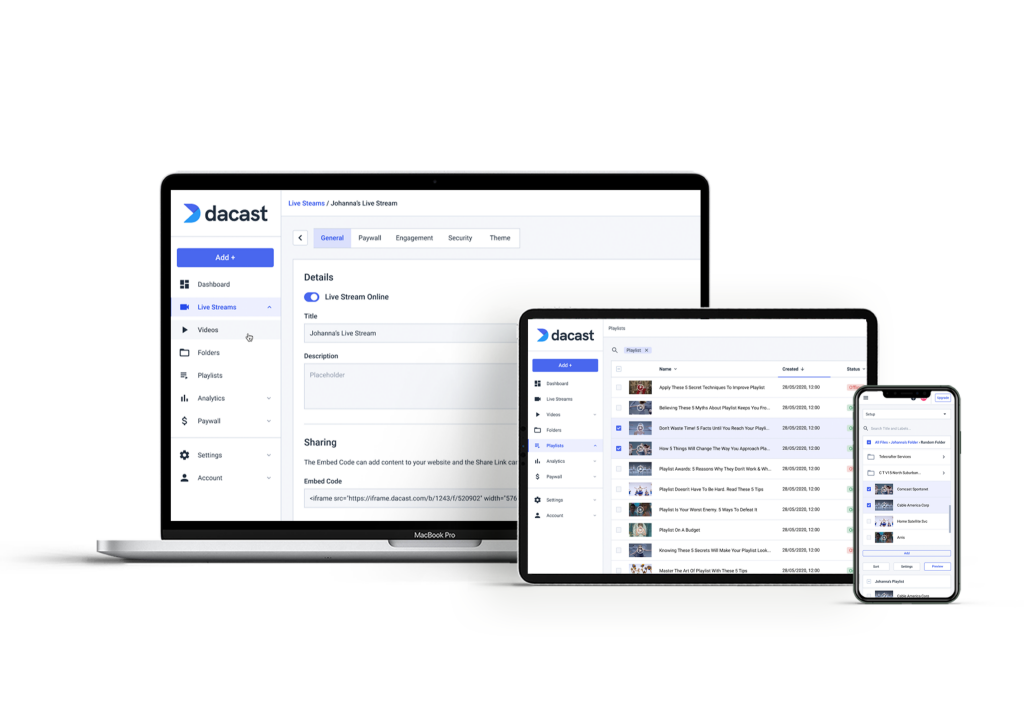 Overview and Company History:
Dacast is a B2B Streaming as a Service company. Today, the Dacast platform delivers high-quality streaming worldwide at very competitive pricing. Dacast is located in San Francisco with offices in London.
Last year, Dacast earned the Streaming Media Readers' Choice Award for Best Small/Medium Business Video Platform and Runner-Up for Best Education Video Platform. And in 2019, Dacast acquired the vzaar platform, expanding its comprehensive OTT solution.
Basic Functionality:
Dacast provides comprehensive live streaming and online video hosting services. Broadcasters who use this live video streaming solution maintains 100% of their content. Among other features, Dacast offers an integrated paywall, password protection, referrer restriction, and an analytics dashboard. Since Dacast is SaaS software, the platform is a key provider of cloud video streaming solutions.
Key Features:
Dacast's key features are ad-free broadcasting, white-label service on all plans, and top-tier CDN delivery. Reliable 24/7 phone support is also available for scale and event plans.
Detailed Features:
Pros:
Cons:
Requires a bit of a learning curve
Pricing:
Pricing plans with Dacast come at three levels. The Developer plan is ideal for newcomers with 100 GB of bandwidth, 20 GB of storage, at just $21 per month billed annually.
However, business users will likely want to use the popular Event plan, which includes 6,000 GB of bandwidth with 10 GB of storage for $63 per month billed annually. The Scale plan includes 2,000 GB with 1,000 GB of storage for $188 per month billed annually. These premium pricing plans add phone support, monetization paywall, M3u8 links for live channels, ads insertion, white-label Cnames, and video API access. Additional bandwidth is available upon request for monthly plans. Read more here about Dacast's live streaming pricing plans.
If you'd rather not sign a contract, you can purchase bandwidth separately via "event pricing" for one-time broadcasts. You can access this bandwidth for up to one year after purchase, making it an economical option for occasional event streamers.
Broadcasters can contact Dacast directly to learn more about custom-priced high volume plans.
In 2019, Dacast acquired the vzaar video hosting platform. This merged allowed us to build an all in one platform with more powerful, with advanced video hosting features for Dacast broadcasters.
2. Brightcove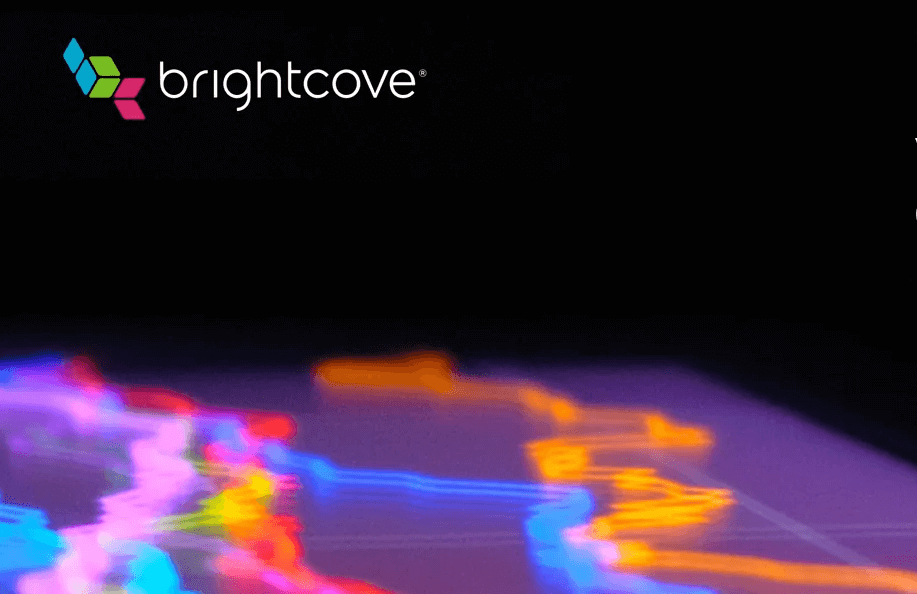 Overview and Company History:
Boston-based Brightcove was founded in 2004. It is one of the oldest online video platforms offering cloud encoding, live streaming, and VOD (video on demand) hosting. Last year, Brightcove acquired streaming platform Ooyala, known for its cloud video technology. Since the acquisition, Brightcove has announced end-of-life plans for the Ooyala OVP.
Basic Functionality:
Brightcove's basic's include video cloud hosting, the lift video player, server-side ad insertion, live streaming video, OTT flow for internet TV, encoder for cloud transcoding, and tools for monetization.
Key Features:
Brightcove's key feature is the analytics provided to customers. Its detailed analytics and video marketing tools are quite valuable for businesses that aim to capture leads and understand their audience.
Detailed Features:
Live streaming and video-on-demand hosting
Analytics
Server-side ad insertion
Cloud transcoding and adaptive bitrate streaming
Monetization options on custom-priced plans
Pros:
Great analytics
Custom video portals
CRM integration
Cons:
Cost
No live streaming with packages under $499/month
Monetization limited to custom-priced plans
No China video delivery
Pricing:
Brightcove offers two pricing plan levels that target higher-end clients. Brightcove's pricing is no longer posted, but plans include basic video marketing tools and analytics with SD streaming quality for unlimited viewers. However, larger users will prefer the Enterprise communications plan, which is custom-priced. Those plans add advanced security tools, HD-quality streaming, and phone support (30-min response time).
3. StreamShark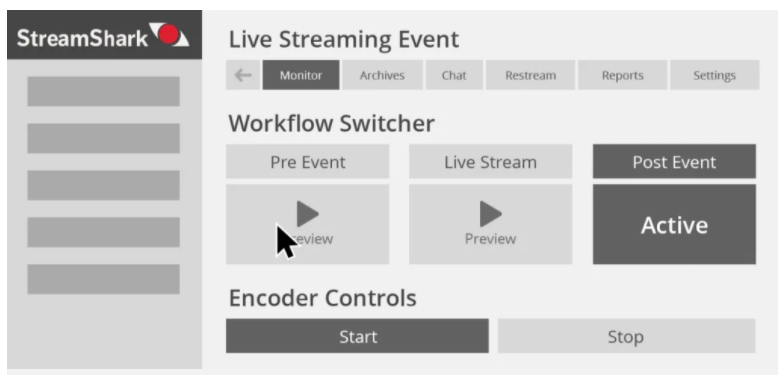 Overview and Company History:
StreamShark is one of the best live streaming solutions for businesses. It was founded in 2011 and provides multi-faceted online video functionality.
Basic Functionality:
As a corporate streaming solution, StreamShark offers both a consumer-grade (B2C) platform and a distinct enterprise platform for streaming.
Key Features: 
Manage different phases of an event's stream
Multi-vendor approach
HLS ingests
Provides global video CDN services
Detailed Features:
Pros:
Localized media ingestion
monetization options
Video Encoding
Redistribution
Increased storage space
Cons:
No support
No embeddable playlists
Fair to no video analytics
No China video delivery
Pricing:
Monthly live streaming plans with StreamShark begin at $199 per month and then moves to $999 per month for businesses.  The more expensive monthly plans (Team and Business) support advertising monetization and lower per-GB costs. Additional features come at each plan level.
These include privacy controls, viewer analytics, and real-time stats. Lastly, Enterprise solutions are available, with custom pricing; they include the greatest number of features at a higher cost.
4. IBM Cloud Video (formerly UStream)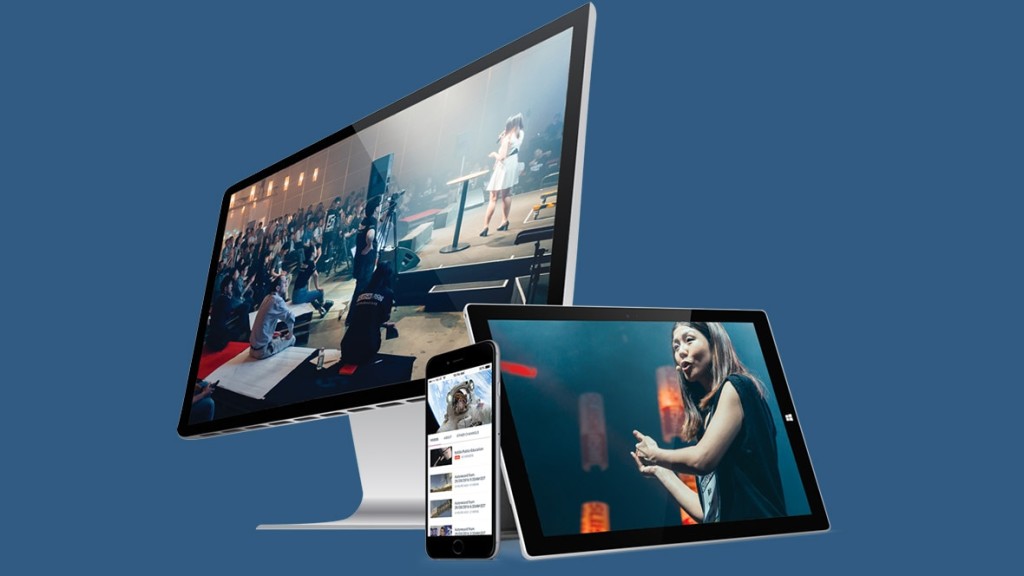 Overview and Company History:
Next in our live video streaming solutions review, IBM Cloud Video is the platform formerly known as UStream. This platform offers video hosting and cloud video streaming solutions, as well as a variety of features. Founded in 2007 to connect military service members with family, IBM purchased UStream in 2016.
Basic Functionality:

The basic functionality of IBM is live streaming. However, this live streaming solution also hosts video on demand files from previous live streams.
Basic streaming accounts are free, with advertising supporting IBM Cloud Video. Paid accounts remove advertising and grant access to advanced features. Enterprise accounts allow for full custom branding and offer analytics, multiple live channels, content syndication, and more.
Key Features:
Overall, key elements of IBM Cloud Live Video solution include:
Streaming up to 720p resolution (*only Enterprise plans support 1080p full HD streaming)
Mobile-compatible video player
White-label custom branding (with high-end plans)
Uses IBM internal CDN to distribute content
API available (with high-end plans)
Detailed Features:
Video distribution and workflow
OTT video management
Enterprise video streaming
Enterprise content delivery network
Monetization capabilities
Pros:
Reliable platform
Perfect for larger clients
Good customer support
Wide range of features for broadcasters
Hong Kong (China) video hosting
Cons:
Additional fees required in order to stream above 720p resolution
Poor closed captioning support
Pricing:
The pricing plans for the IBM Video Cloud start at a range of $99 to $999 per month, and more for custom plans. Each account tier provides some additional features, more storage, and more viewer hours. For example, users have more channels and watermarking on higher-tier plans. Customized packages are available for those with large bandwidth needs.
5. JW Player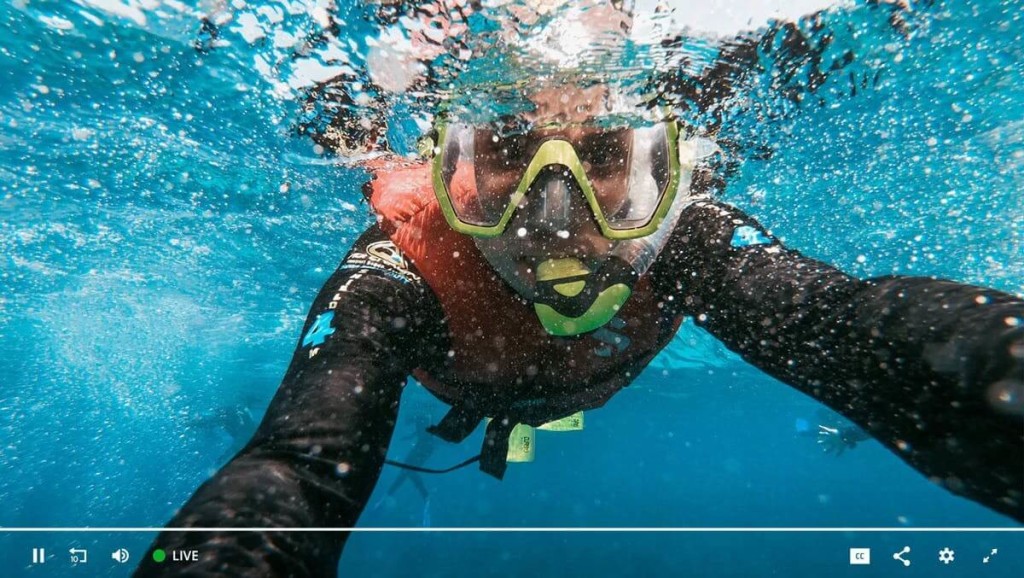 Overview and Company History:
The JW Player project (as the name suggests) began as a video player. This now streaming solution was founded in 2005 as part of a student project. Today, this service offers hosting and live streaming.
Basic Functionality:
This solution is known for its HTML5 video player for VOD content. In addition to that, JW Player is now a full-service live streaming provider.
Key Features:
Live streaming and video-on-demand (VOD) hosting
Video recommendations engine to generate a custom "watch next" recommendations
Tools for monetization via advertising, and detailed revenue tracking
Analytics tools
Detailed Features:
Multi-bitrate and adaptive streaming
Global content delivery
Email support through the $100/month plan level
Video API access on all plans
Security features are basic but functional.
Only custom-priced Enterprise plans offer DRM
Monetization via advertising
Pros:
Great video player
Simple, easy-to-use platform
Good advertising tools
Cons:
Live streaming limited to custom-priced plans with a 6-hour duration
Only ad-based monetization
No China video delivery
Pricing:
Basic pricing plans start at $10 per month but do not include live streaming at all. These include hosting for up to 1,500 viewers per month for on-demand video streaming. Custom "Enterprise" plans also exist for larger users. Among other features, custom plans support unlimited channels and add live-streaming functionality. In addition, custom-riced plans add for support for ad-based monetization.
JW Player offers a 1-month free trial of the Developer Plan for front-end and back-end engineers.
6. Kaltura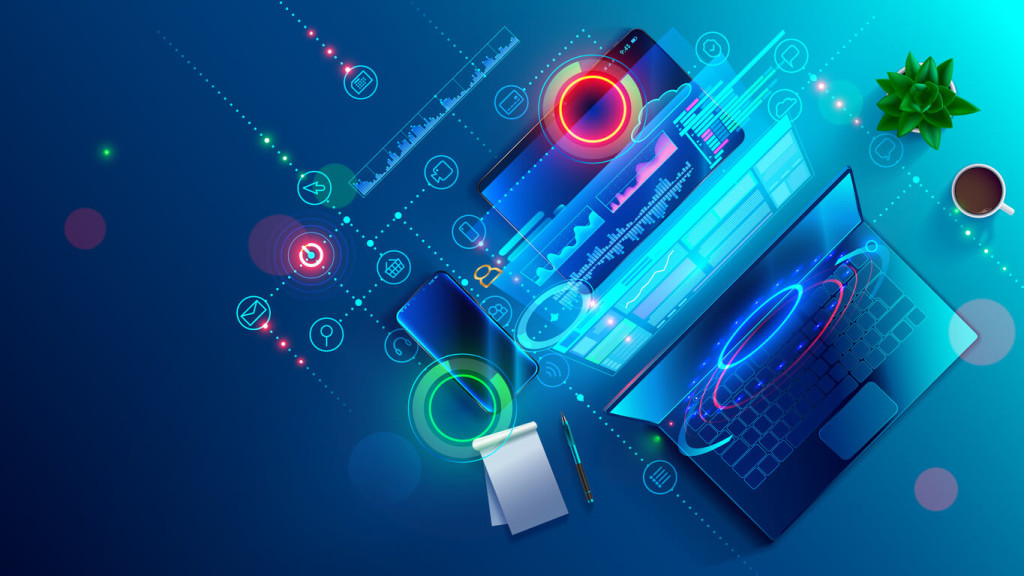 Overview and Company History:
The Kaltura online video platform targets large institutions. In particular, Kaltura focuses on four markets: video services for educational institutions, enterprises, media companies, and OTT video services. Historically, this company has worked most extensively with educational institutions.
Basic Functionality:
This video streaming solution is an alternative to the self-hosted model. The software for Kaltura is free, however, it requires an infrastructure of servers for hosting and distributing content. Kaltura provides cloud-based video hosting and distribution for both VOD and live streams.
Key Features:
The Kaltura Management Console (KMC) offers tools to create, upload, edit, manage, publish, and deliver live and on-demand video to viewers. Key features of the KMC include:
Live streaming and VOD hosting
Secure content delivery via Akamai and eCDNs
Live transcoding, live production software, and video marketing tools
Video APIs, SDKs, developer tools, and code recipes
Highly customizable, and therefore highly complex streaming platform
Detailed Features:
Multi-bitrate and adaptive streaming
Video API access
Global content delivery via a combined CDN approach
Ability to bring your own CDN
Security features including a range of authentication and encryption options
Monetization including all major models – subscription, advertising, PPV streaming
Pros:
Many available features
Great monetization options
Robust security
Cons:
Ticket-based system for support
Highly complex
No China video delivery
Pricing:
On the higher end in terms of cost, this live streaming solution offers custom-priced and pay-as-you-go plans to broadcasters. Interested broadcasters must contact their sales department directly to design a custom package. Given the degree of customization of plans with Kaltura, this option is best suited for large-scale enterprises with larger budgets.
7. Muvi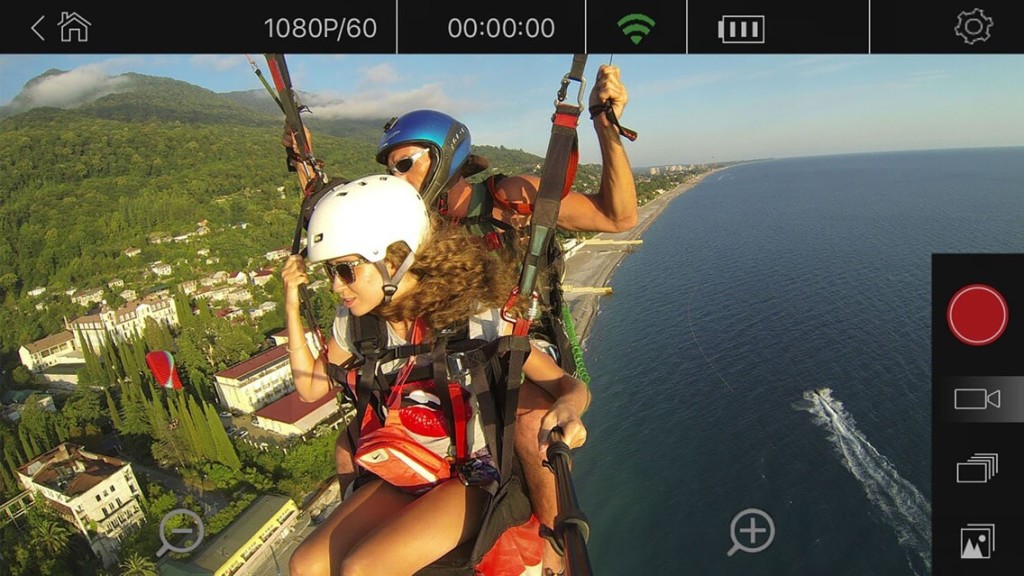 Overview and Company History:
Moving along in our live video streaming solutions review, let's consider Muvi. This corporate video streaming solution centers on OTT media businesses. Overall, Muvi aims to provide a "turnkey" service to broadcasters. In short, Muvi focuses on OTT services that are quick to get up and running. They say their model empowers users to launch their own video or audio strategy quickly and easily.
Basic Functionality:
Muvi's OTT multi-screen video streaming solution helps businesses launch white-label multi-device streams. They also provide VOD and audio streaming. It's fully managed and all controlled from a single CMS.
Key Features:
HTML5 all-device video player
White label custom branding
Various monetization options
Support for video and audio streaming
Dashboard management CMS for naming and organizing content
24/7 support
Detailed Features:
Custom branding
HTML5 video player
Analytics
DRM and security features
Pros:
CDN delivery
Hosting
No coding required
Video CMS
Transcoding
DRM
Website and Apps for Mobile and TV.
Cons:
Not extremely user-friendly
Hard to integrate or connect
CMS user interface is complex
No China video delivery
Pricing:
Muvi pricing starts at $199/month. From there, pricing plans span up to $3,999 per month (for a plan with a dedicated server). More concurrent viewers and additional features, like API access, come at higher-level plans. Custom mobile apps are available for an additional fee.
8. Panopto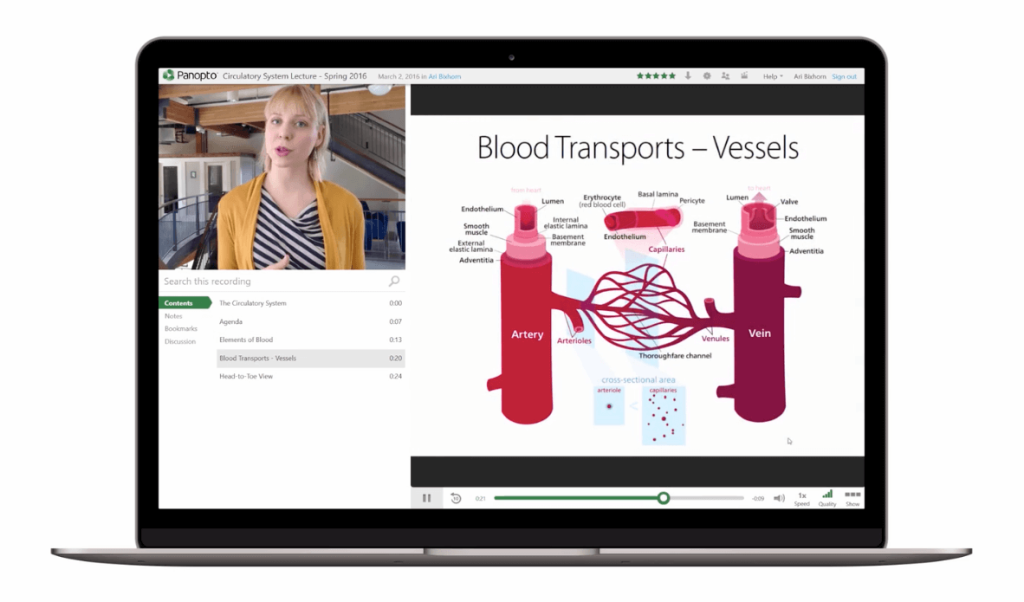 Overview and Company History:
Panopto is one of the live video streaming solutions aimed at educational and institutional users. This platform aims to deliver an "internal YouTube" experience for training and more. It was founded in 2007 in Pittsburg at Carnegie Mellon University as a tech project. This online video streaming solution enables streaming, sharing recording, and managing video content.
Panopto has more than 100 employees in 6 offices around the world. This streaming solution serves an audience of over 5 million end-users in the e-learning space.
Basic Functionality: 
With a focus on online education, it provides tools similar to YouTube and integrates with Learning Management Systems. Overall, Panopto is a more focused online video organization than the other best live streaming solutions considered here.
Key Features:
Secure portal for management
Includes software for live streaming and auto-archiving using webcams
Keyword search inside videos
Tools for API access and LMS/CMS integration
Detailed Features:
Lecture-capture and video-search software
Access control & security features
White-label streaming
Integration with LMS systems
APIs for further integrations.
Pros:
Audio Content
Analytics
Document Indexing
Customizable Branding
Full-Text Search
Video Content
Asset Categorization
China video delivery
Cons:
No customizable templates
No image editor
No SEO management
No version control
Pricing:
Panopto pricing is annual, custom, and based on a variety of factors. For example, custom-pricing depends on the number of users in your organization, among other characteristics.
9. Vimeo Live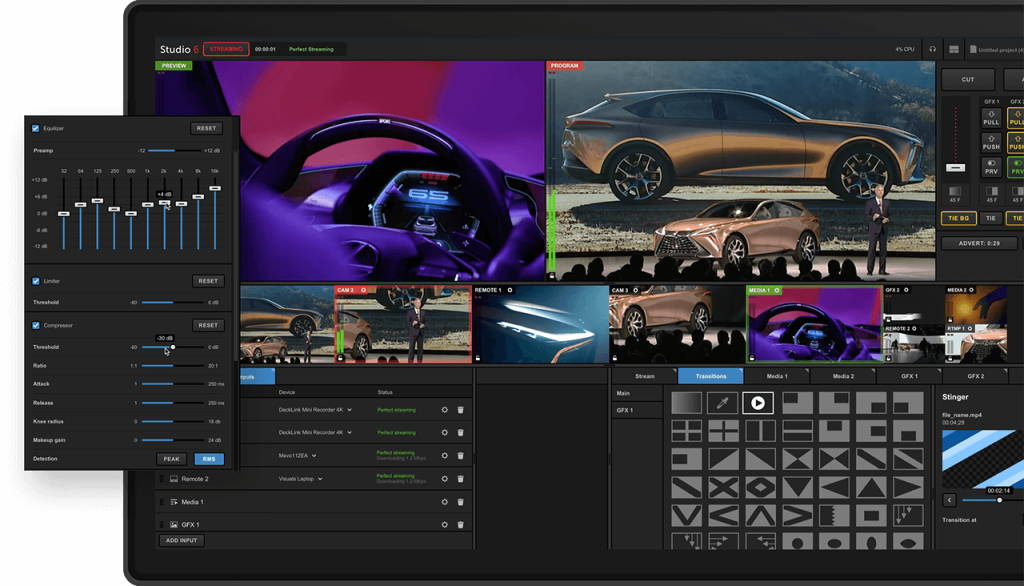 Overview and company history:
Next is Vimeo Live. In 2017, Vimeo acquired Livestream and launched its own live streaming service called Vimeo Live. Previously, Livestream was a company that offered live streaming and video hosting solutions.  Since the acquisition, the two companies have been merging their services. Like IMB Cloud Video, Vimeo Live is on the higher end of the live streaming pricing market.
Basic Functionality:
Vimeo offers streaming as well as video hosting services. The services include analytics and a video management platform.
Key Features:
Full-HD quality
All-device video player with adaptive bitrate streaming
Privacy tools, or embed to any website
White-label service
Live audience chat
Monetization options
Detailed Features:
Large storage capacity
Privacy options
Video management service
High-quality videos and streams
Upload from anywhere
Pros:
Unlimited events and viewers
No ads
Sleek and professional appearance
Thoroughly detailed analytics
Easy to use
Pay-per-view option
Cons:
Does not generate as much traffic as other sites
No China video delivery
Pricing:
Vimeo offers four main pricing plans.
Their Plus plan is the most basic option available, and it starts at $7/month. It includes basic features, such as player customization and social distribution.
The Pro and Business plans are both middle-of-the-road in terms of pricing and features. They are $20/month and $50/month, respectively.
Their Premium plan starts at $75/month. It includes both live streaming and VOD services. This plan is the way to go for professional broadcasting.
Additionally, they offer a custom-priced Enterprise plan that includes white-label service, monetization, and video APIs. It also includes branding control and added security features.
10. Wowza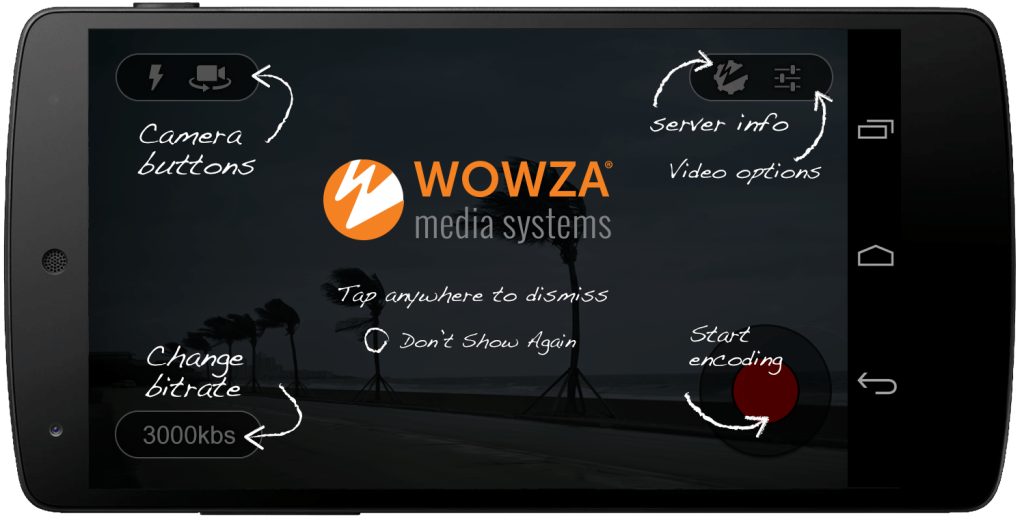 Overview and Company History:
Finally, the last of the live video streaming solutions under review here is Wowza Streaming Cloud. Wowza is feature-rich and provides a customizable platform for broadcasters of all sorts. It was founded in 2005 by David Stubenvoll and Charlie Good. Wowza is a bootstrap start-up, with live and on-demand live streaming capabilities.
Basic Functionality:
Wowza offers two main products. The first is the Wowza Streaming Engine. This product is widely used in the industry for self-hosted streaming. The second is the Wowza Streaming Cloud offering. This functionality includes a variety of features aimed at providing low-latency content access to global audiences.
Key Features:
Live streaming and on-demand video hosting
Host-you-own streaming server product
White-label streaming
Mobile-compatible video player
Customer support (*note that phone support and fast responses cost extra)
RESTful API available
Detailed Features:
APIs are available
Live stream recording
Cloud management portal
Streaming up to 4K
Wide range of security options
Pros:
Audience Engagement
Performance Monitoring
Mobile Screen Support
Robust security
Video Streaming
Video Looping
China video delivery
Cons:
No Multistreaming
No Session Recording
No Video Monetization Tools
No Multiple Camera Feeds
No Audience Analytics
No Event Scheduling
Pricing:
Wowza pricing plans range from $49 per month to $199 for the streaming cloud and $95 for the streaming engine plans. There are also enterprise plans with flexible pricing, but those require contacting Wowza directly.
Final Thoughts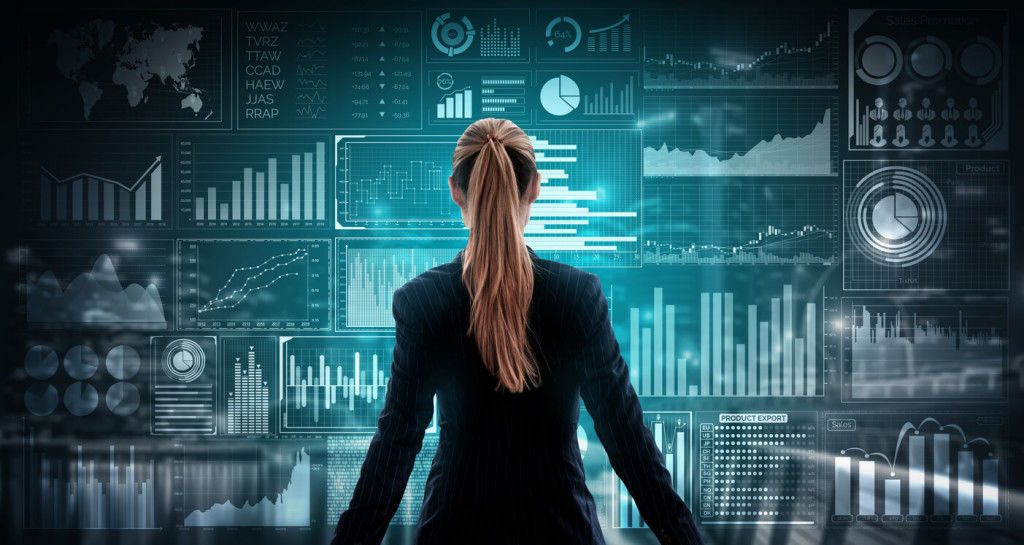 There is a range of options available when it comes to streaming solutions. We hope that this article has helped you to understand the top online streaming solutions that are available today. Of course, we firmly believe that when assessing features and pricing, Dacast is the best live streaming platform for professionals. However, our goal is to provide the most up-to-date information as possible to our readers.
If you haven't decided firmly on which streaming solution is for you, why not try our live streaming solutions for yourself? We offer a 30-day free trial, with no credit card required. Click here to sign up for our free trial and start streaming live today:
If you have any comments, let us know what you think! We love to hear from our readers. For regular tips on live streaming and exclusive offers, feel free to join our LinkedIn group.