Did you know that 59% of executives have reported that they'd rather consume information through a video as opposed to reading the written text?
People have turned to streaming video hosting services for news, entertainment, sports, and more so it makes sense that this trend has carried over into the professional realm. Overall, computer users spend one-third of all online activity watching videos. 
Research has shown that the percent of screen time spent on video consumption is growing quickly. Businesses and other organizations are taking advantage of this trend by streaming video content of their own. In order to produce this content, streaming video hosting services are a must.
Unlike free consumer-grade platforms, dedicated streaming video providers offer easy-to-use, feature-rich plans, secure video upload, CDN access, tech support, and much more. 
The most valuable perk of going with a paid service vs. a free one? You have more control over the video content that you broadcast.
Today, we are going to discuss what video hosting is, the key features to look for in streaming video hosts, and a few of the top live streaming platforms offering online video hosting services, as well as video on demand servers.
This post has been updated to reflect new information regarding the top 10 best streaming video hosting providers as of October 2020.
Table of Contents:
What is Video Hosting?

Drawbacks of Free Streaming Video Hosting Solutions

Key Features for Professional Streaming Video Providers

Review and Comparison of the Top 10 Streaming Video Hosting Services

Conclusion
What is Video Hosting?
As we've covered, video content is very valuable in the professional world. However, due to their size, videos can be a pain to share, especially when you want to maintain their quality. 
Streaming video hosting providers offer a solution to this problem.
Video hosting provides a platform for you to share videos internally. Some video hosting solutions offer a multitude of features related to video production, including tools for editing, monetization, SEO, video analytics, and more.
To take this a step further, live stream video hosting is a type of video hosting that has live broadcasting capabilities. This is what allows you to stream videos to your audience in real-time.
While there is a plethora of free streaming video hosting solutions, many offer restricted versions of these excellent features. 
Businesses and professional broadcasters are better off choosing a paid streaming video hosting service to reach their audiences.
Drawbacks of Free Streaming Video Hosting Solutions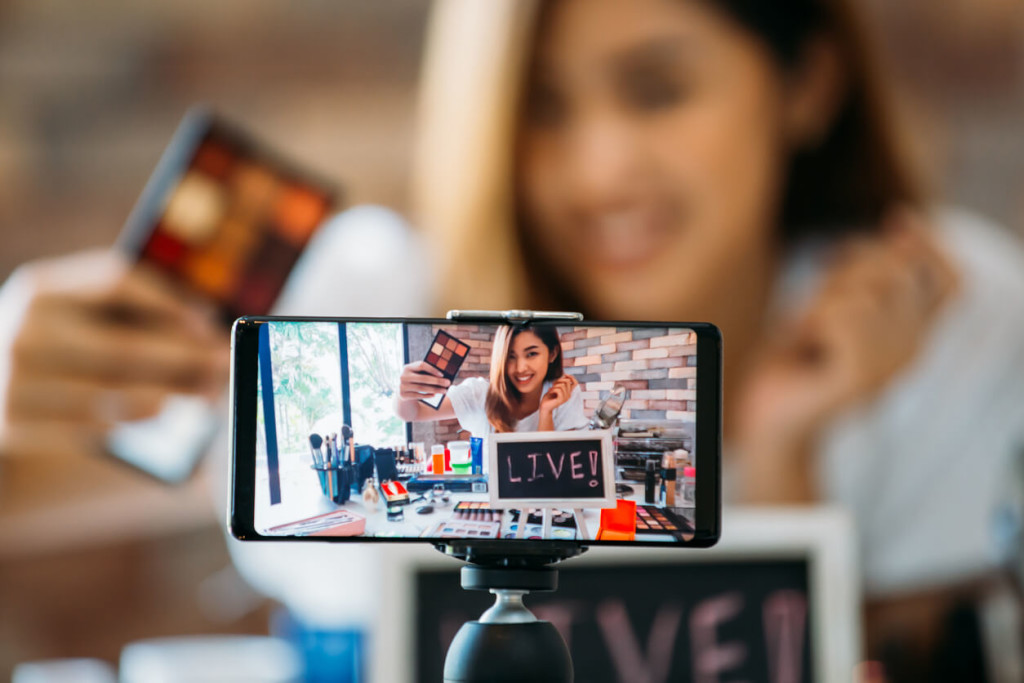 Many private individuals who create content use free streaming video hosting services. The most popular of these is YouTube. 
However, these services simply aren't suitable for businesses for a few reasons. First and foremost, the majority of consumer-grade hosting services don't offer the streaming features necessary for professional users.
Some drawbacks of free streaming video hosting solutions include:
Host (not broadcaster) has rights to all content

Branded (not white-label service)

No control over ads (whether or not you want ads to appear on your video content)

Limited or no customer service/tech support (crucial during live broadcasts)

Limited or no monetization options

Lack of feature-rich capabilities for high-quality streaming

Limited security options (e.g.

secure video upload

)

Limited integration / API options
If you are creating content for your business or professional organization, you are better off streaming with paid alternatives that offer white-label service that gives you brand control and monetizes your video in a truly professional manner.
With that context in mind, this article centers on professional streaming video hosting services, like Dacast. In fact, 51.9% of marketing professionals worldwide name video as the type of content with the best ROI. Some companies are reporting triple-digit returns on their video investments.
You are better off streaming with paid alternatives that offer white-label service that gives you brand, control, and monetize your video in a truly professional manner.
Key Features of Professional Streaming Video Hosting Providers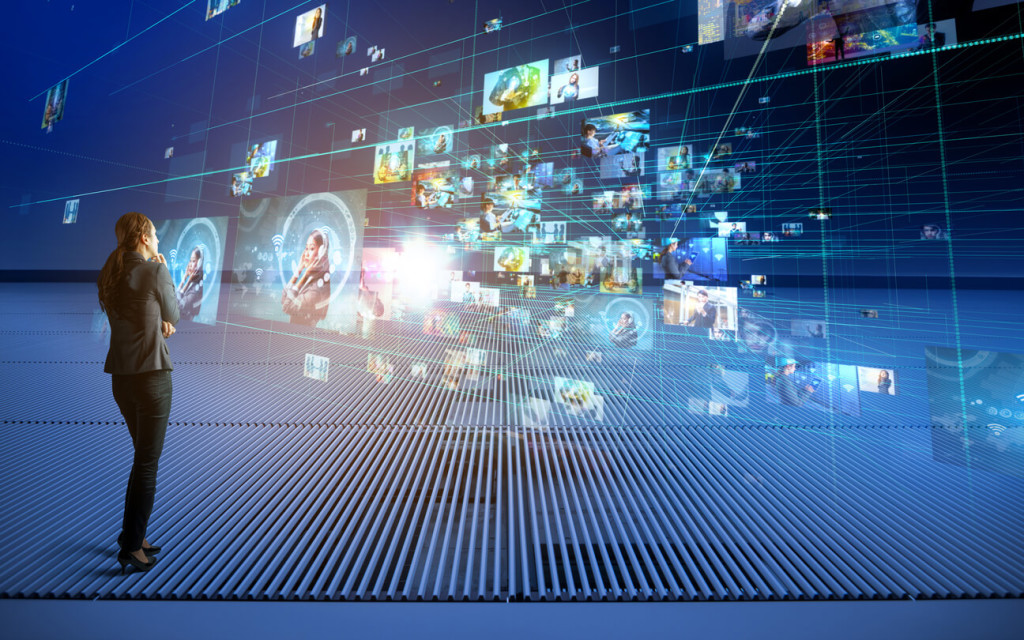 Before we dive into our streaming video providers comparison, let's talk about some of the specific features that are valuable to professional broadcasters. 
Security
Piracy costs the U.S. economy more than $30 billion annually. In an effort to combat this reality, we'll compare security features for each platform we review.
Some popular security features include secure upload, password protection, domain restrictions, and more.
Monetization
Worldwide OTT revenue was roughly $67.8 billion in 2018. That number is expected to rise to $158.84 billion by 2024. Therefore, any streaming video hosting services should include monetization tools.
Three popular monetization methods for video content are ad-based, pay-per-view, and subscription-based.
Content Delivery Network (CDN)
A full 63% of live stream viewers in 2017 cited buffering issues as the most serious problem they encounter. Furthermore, that figure actually represents an increase from the previous year. 
CDNs help to resolve latency and buffering by eliminating bottlenecks in the system for the distribution of videos. 
If you're looking to stream video in China, for example, make sure your chosen video hosting service supports this, as well.
API Access
The last several years have seen the beginnings of the API economy. APIs, or Application Programming Interfaces, allow you to build custom apps, video platforms, workflows, and integrations. 
These are key for many businesses to make the best use of a video streaming platform.
Pricing
Whether you have a fixed or infinite budget, the cost is always a factor when choosing among streaming video hosting solutions. 
We'll provide basic pricing plan details for each platform below. Costs can vary widely platform to platform, as can the features included in each plan level.
Top 10 Video Streaming Services: A Comparison
Here are the top nine video hosting services that are equipped with the features that your business needs to broadcast professional-grade video content.
1. Dacast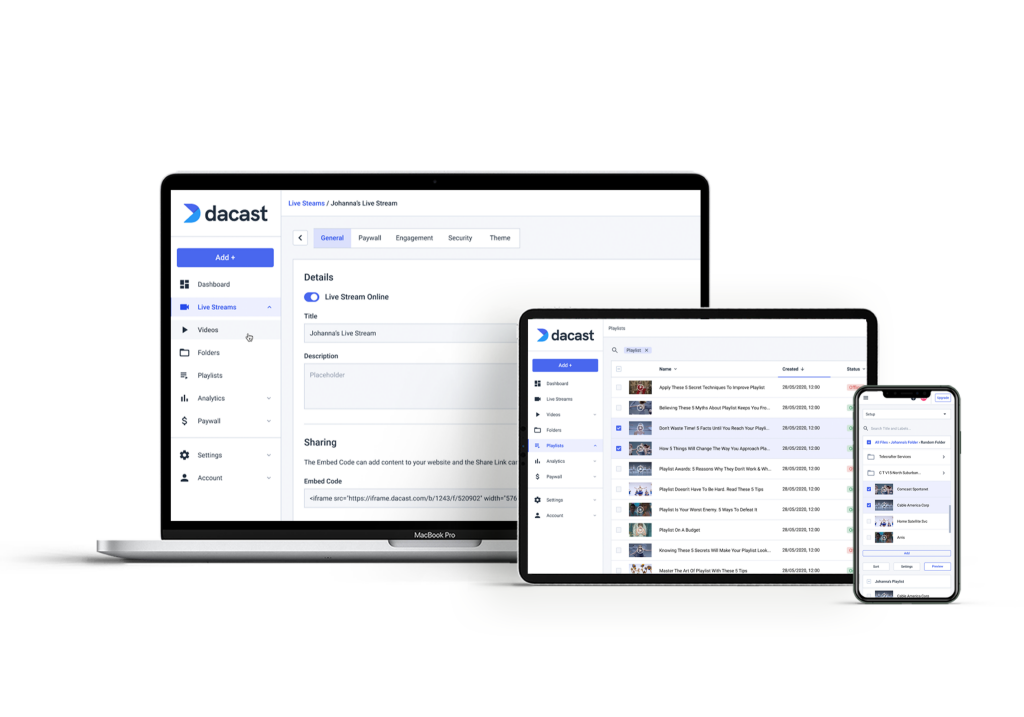 Company Background:
Dacast offers a wide range of professional features and delivery with top-tier CDNs at affordable, competitive prices. Dacast is a robust streaming solution that was designed for business professionals and enterprise.
Since it has so many robust features, it may take a minute to learn the platform. However, the platform was designed for those of all levels of experience, so we're confident that you'll be comfortable navigating Dacast in no time.
Basic Functionality:
Dacast is a streaming platform for broadcasters that want to process and stream their videos with top-notch security, monetization, and professional distribution tools.
Key Features:
Content control with security options and white-label capabilities 

Multi-bitrate streaming for live and VOD video

Adaptive Bitrate streaming

Player API access for easy integration with existing systems and custom app creation
Video API access on premium plans
Scale video hosting and delivery to hundreds, thousands or millions of users
Multiple, customizable video monetization options

Reliable delivery from top-tier CDNs

Real-time analytics
Pros:
Cons:
Has a slight learning curve
Pricing:
Dacast has multiple live streaming pricing plans. The Starter plan is ideal for newcomers with 100 GB of bandwidth, 20 GB of storage, at just $21 per month billed annually. Business users will likely want to use the popular Event plan, which includes 6,000 GB of bandwidth with 10 GB of storage for $63 per month billed annually. The Scale plan includes 2,000 GB with 1,000 GB of storage for $188 per month billed annually. 
Please check out our calculator to discover the recommended plan for your needs.
Best Use Cases:
2. Brightcove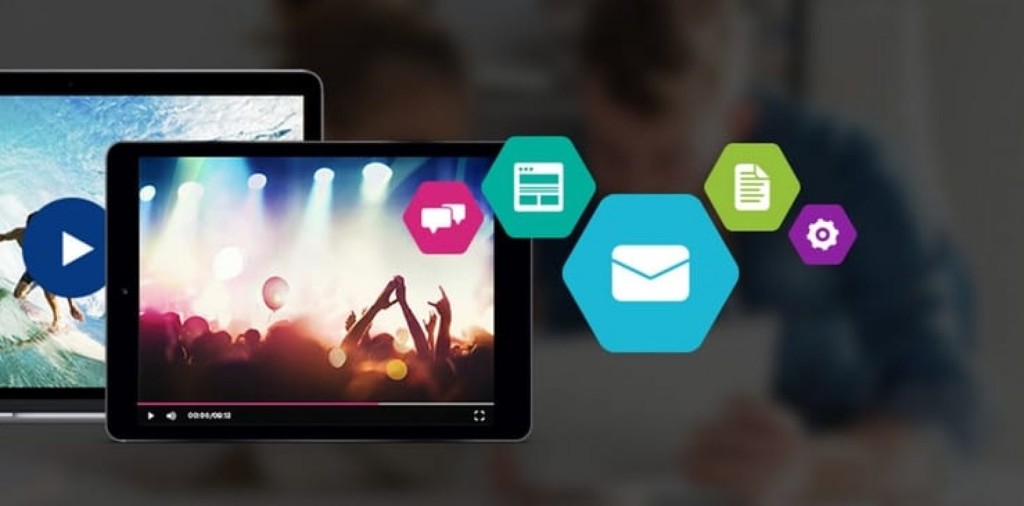 Company Background:
Brightcove is a video host that was designed with the dual purpose of monetization and marketing. They have been in the video hosting arena since 2004, so they bring nearly two decades of experience, trial, and error to the table.
They are truly global with thousands of users in over 70 different countries. Brightcove is perfect for users who are looking for state-of-the-art video technology and capabilities to integrate with their favorite marketing, communications, and ad software.
Basic Functionality:
Brightcove is a video marketing and enterprise video suite, designed to work smoothly in all of your marketing and ad campaigns. It also has video cloud and video player capabilities.
Key Features:
Video monetization and advertising

Over-the-Top (OTT) streaming services

TV Everywhere (TVE) streaming services

Live event and 24/7 streaming

Dozens of useful app integrations
Pros:
Powerful privacy and security settings

Comprehensive editing tools

Permissions configuration

Useful integrations

Customer support

Easy-to-use interface
Cons:
Reporting is limited

Users are required to pay for 24/7 support

Requires a bit of a learning curve

No China delivery
Pricing:
All Brightcove pricing packages are custom priced. Please contact them for a free quote.
Best Use Cases:
Live Streaming Sports

Live Event Streaming

Streaming Video for Sales

Enterprise Video Hosting

Marketing Video Hosting
3. Wistia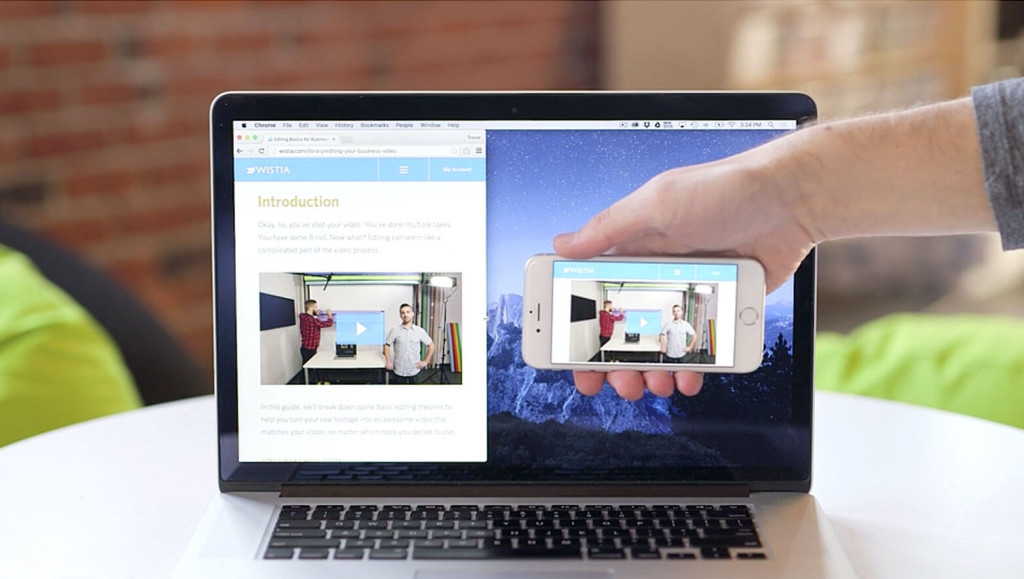 Company Background:
Wistia is a "TV-quality" streaming video hosting service that is designed for broadcasters who want to grow. It is equipped with custom players that allow you to add your logos and branding.
It is perfect for marketing, as their CTAs, annotation links, and email features happen to be among their top-selling points.
Basic Functionality:
Wistia's basic functionality is creation, management, and streaming of video content that is shared for marketing purposes.
Key Features:
Management and embedding

Custom video layer

Interactive video tools

Ad-free experience

Channels

"Up Next" feature

Reach and retarget

Subscribers

CRM integrations

Video analytics

SEO
Pros:
Custom branding

Insightful analytics

Variety of different call to actions

Automated video SEO

No ads on user videos

Customer service
Cons:
Some road bumps with customization options

No China delivery
Pricing:
Wistia has three pricing plan tiers. The most basic package is free. They also have a Pro package that goes for $99/month and an Advanced Package that has custom pricing.
Best Use Cases:
Live Event Streaming

Streaming Video for Sales

Enterprise Video Hosting

Marketing Video Hosting
4. JW Player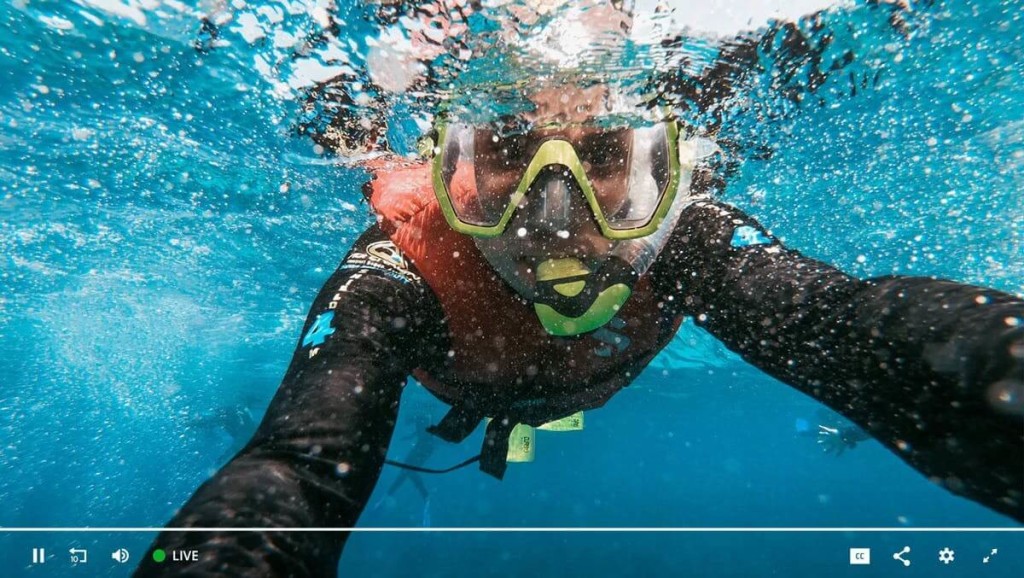 Company Background:
JW Player was originally a video player that shared some of its code with the original Youtube video player. However, the platform has since evolved to include VOD hosting, and live streaming. While JW is a solid platform and a great video player, it has a few noteworthy drawbacks.
JW Player is very affordable, but its features reflect that. It is a viable option if you are on a budget and are prepared to make do with extremely limited capabilities.
Basic Functionality:
JW Player is a live streaming service with extremely limited services and capabilities. However, it is known for its low price points and magnificent customer service.
Key Features:
Tokenized access and DRM support

Designed for firms of all sizes

Powerful analytics

Ad optimization

Video distribution management
Pros:
Integrations for advertising monetization

Auto converts video for different devices

Simple user interface

Very affordable

Great customer service

Excellent sales support
Cons:
Live streaming via API is currently not supported

Live events are limited to 5 hours duration

Does not support subscriptions or pay-per-view

No closed captioning

No screen sharing 

Uses internal video on demand servers for content delivery

No China delivery
Pricing:
JW Player has a free plan with a non-commercial license with 25 GB for hosting and 75 GB for streaming. For paid plans, pricing starts at $10/month for the Starter Plan with 150 GB for hosting and 500 GB for streaming. Custom Enterprise plans are available as well.
Best Use Cases:
Streaming Video for Sales

Enterprise Video Hosting

Marketing Video Hosting
5. Kaltura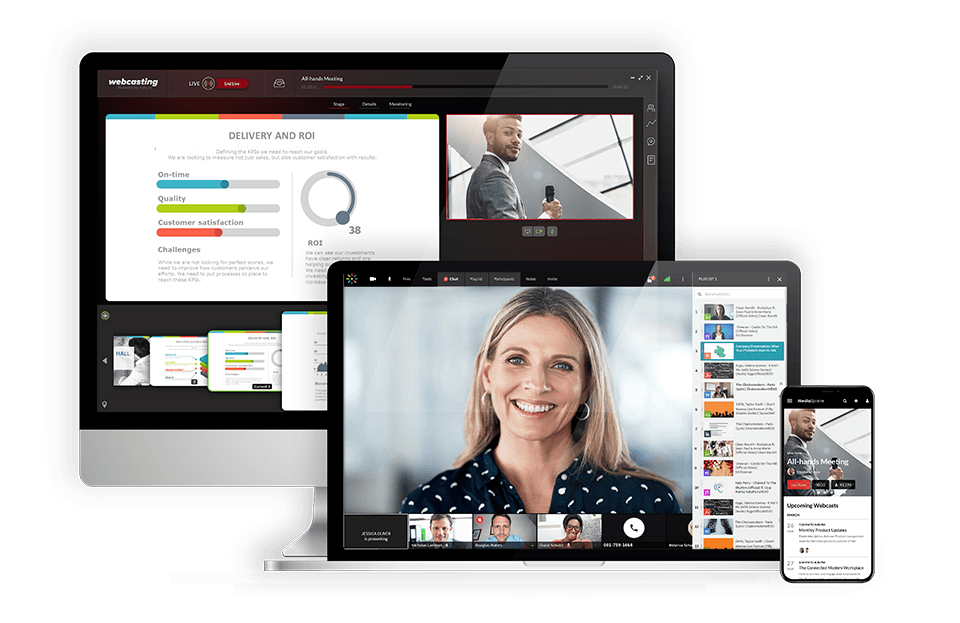 Company Background:
Kaltura is an Israeli video hosting service that serves clients around the world.
Like other streaming video hosting services, Kaltura supports both live video and VOD. However, it does have some differences from other platforms as well. For example, Kaltura offers a unique ecosystem of services aimed at large institutions like universities. 
Basic Functionality:
Kaltura's main service is video management. It is most commonly used for educational purposes for both employees and students in schools.
It is perfect for online and in-person training. Many use Kaltura to host webinars.
Key Features:
Various security features for the Kaltura OVP include password protection, encryption, and watermarking

Three main options for monetizing OTT video: advertising, subscriptions and one-time transactions

Cloud TV service

Video looping capabilities

Closed captioning for accessibility 
Pros:
Several monetization options

Popular for both internal business use and education use

Easily accessible for viewers

Allows bulk uploading
Cons:
"Bring-your-own CDN" platform, which entails additional cost and complexity

Slow uploading and processing 

Requires a bit of a learning curve

No China delivery
Pricing:
Kaltura's pricing is based on usage in terms of bandwidth and features. They offer both annual and pay-as-you-go pricing. 
Annual plans start at $5,400 and are billed monthly. Kaltura also offers free trials.
Best Use Cases:
Live Event Streaming

Streaming Video for Sales

Enterprise Video Hosting

Marketing Video Hosting
6. Vimeo Live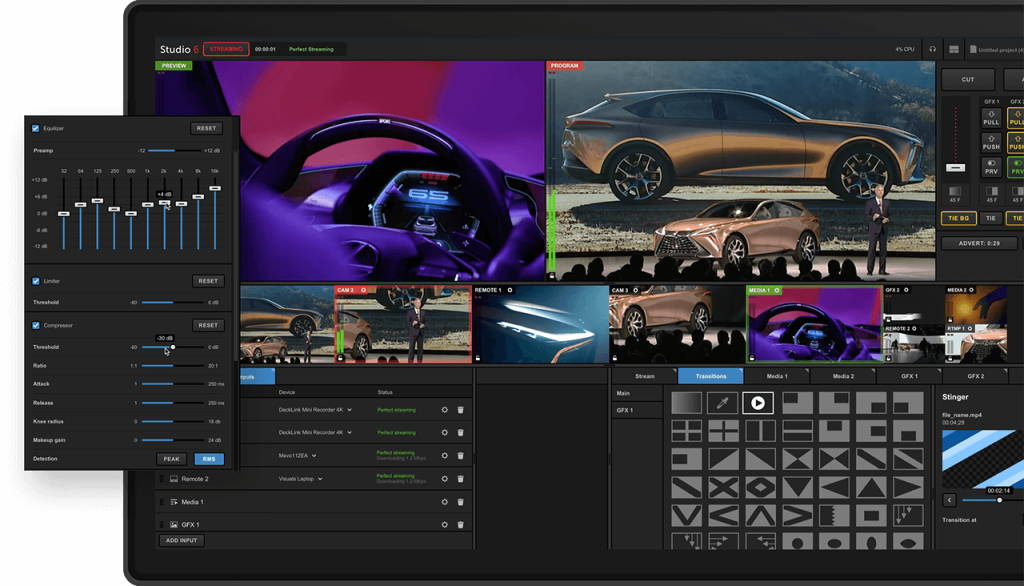 Company Background:
Vimeo has long offered a video-on-demand service focused on the artist and creative market. However, in 2017 the company acquired Livestream and launched its own live streaming solution. 
Vimeo Live and Livestream (Vimeo) offer services that are independent of one another.
Basic Functionality:
Vimeo Live is a totally inclusive streaming video hosting service that covers every base from video players to live streaming services, collaboration tools to distribution and marketing, monetization to analytics, and more.
Key Features:
Vimeo Live is a one-stop-shop for all of your video streaming needs. However, this convenience comes with a hefty price tag. As you add services to your plan, the price adds up quickly.
Pros:
Unlimited events and viewers

No ads

Sleek and professional appearance 

Thoroughly detailed analytics

Easy to use

Pay-per-view option

Basic privacy settings
Cons:
Extra fees for monetization

Reported issues in regards to distribution due to connection issues on an internal server

Generates less traffic than competing sites

No China delivery
Pricing:
Pricing plans start at $7/month for the Plus plan with 5 GB of streaming per week, and unlimited live streaming starting at $75/month for the Premium plan.
Best Use Cases:
Live Event Streaming

Streaming Video for Sales

Enterprise Video Hosting

Marketing Video Hosting
7. Livestream (Vimeo)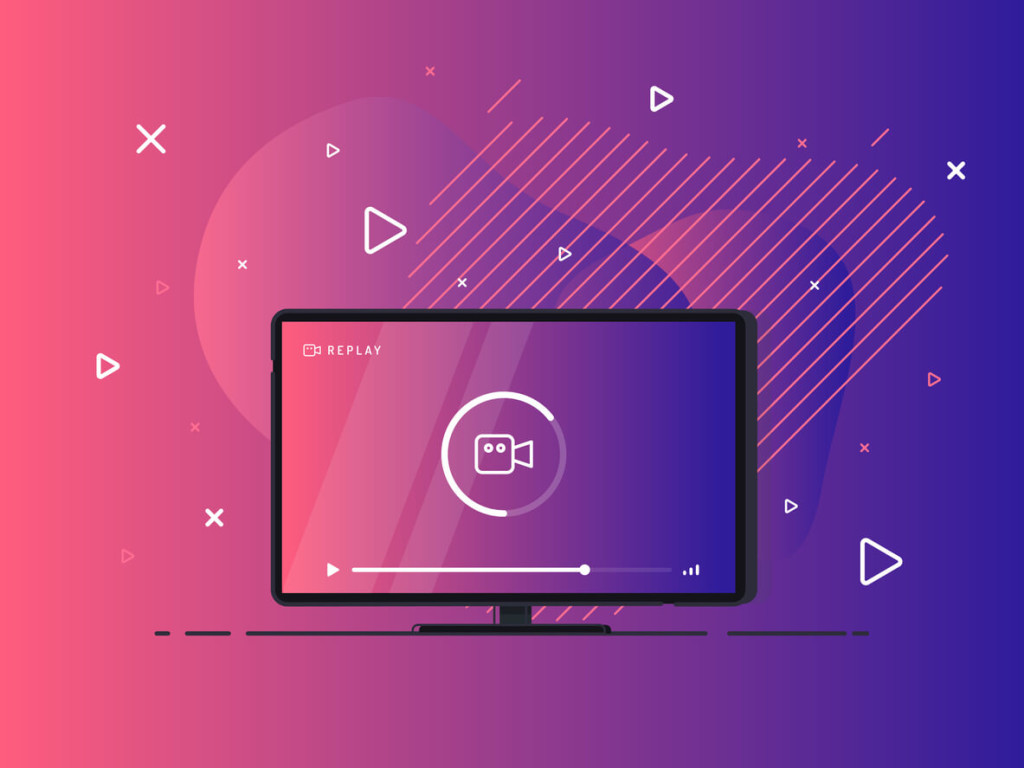 Company Background:
Livestream is a longtime competitor in this industry and has both strengths and drawbacks to consider. 
As mentioned above, Vimeo purchased Livestream in 2017. Since then, the companies merged their services under Livestream (Vimeo), which is different from Vimeo Live.
Basic Functionality:
The main services of Livestream include marketing, video management analytics, and lifestreaming. It is great for professionals who are looking for an all-in-one platform to stream, manage, and monitor their videos.
Key Features:
In addition to its primary video services, Livestream is known for its excellent security, audience interaction, and additional marketing capabilities.
Livestream is slightly more expensive than Vimeo Live.
Pros:
Works directly with Youtube

Easy-to-use for both users and viewer

Detailed analytics

Top-notch security
Cons:
Limited CDN capabilities

Regular pauses in streaming for software updates

No China delivery
Pricing:
Livestream pricing plans start at $75/month with enterprise plans available after a demo with their sales team. 
Best Use Cases:
Live Event Streaming

Marketing Video Hosting
8. IBM Cloud Video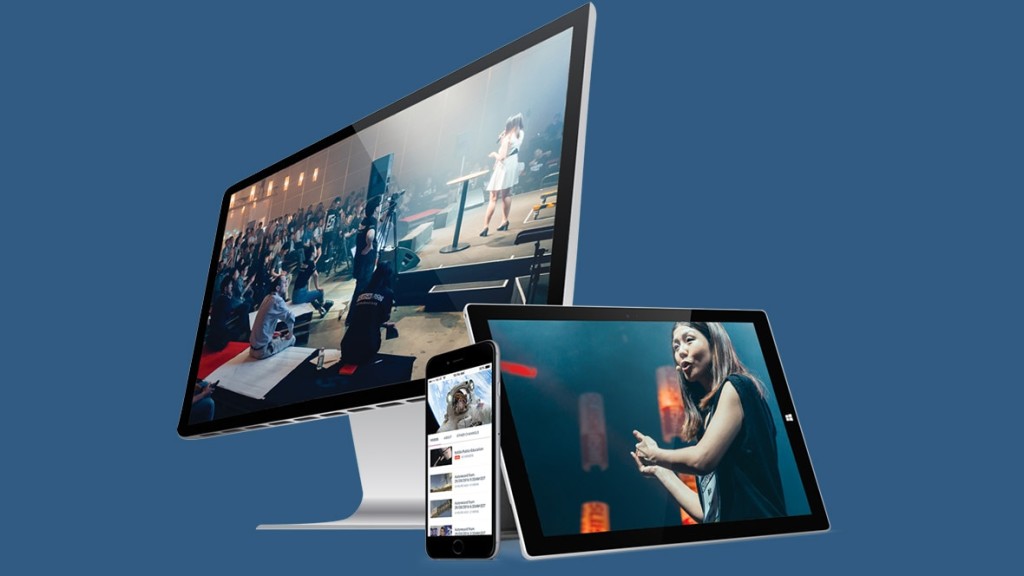 Company Background:
IBM Cloud Video, formerly known as UStream is known as one of the most reliable streaming video services. It is a capable live streaming and VOD platform, IBM Cloud Video, but it is also quite expensive relative to the features it provides.
Basic Functionality:
The purpose of IBM Cloud Video is to provide live streaming and video-on-demand services. 
Key Features:
IBM Cloud Video is known for its reliable platform and stellar customer support.
Something that makes IBM Cloud Video different from other streaming video services is that it delivers videos via an internal video on demand server. While this method works for some, others do not prefer this.
Pros:
Reliable platform

Suitable for larger businesses

Excellent customer support

Equipped with powerful features for broadcasters
Cons:
No monetization tools

Does not use a CDN

Access to the platform via APIs is only available on custom-priced "Media and Enterprise Plans"
Pricing:
Pricing plans range from $99/month to $999 per month. Custom pricing plans are available for larger businesses. 
Password protection costs $99/month and up. The $499/month plan adds embed restrictions. The $999/month plan includes full embed controls and a private channel URL.
Best Use Cases:
Live Event Streaming

Streaming Video for Sales

Enterprise Video Hosting

Marketing Video Hosting
9. Vidyard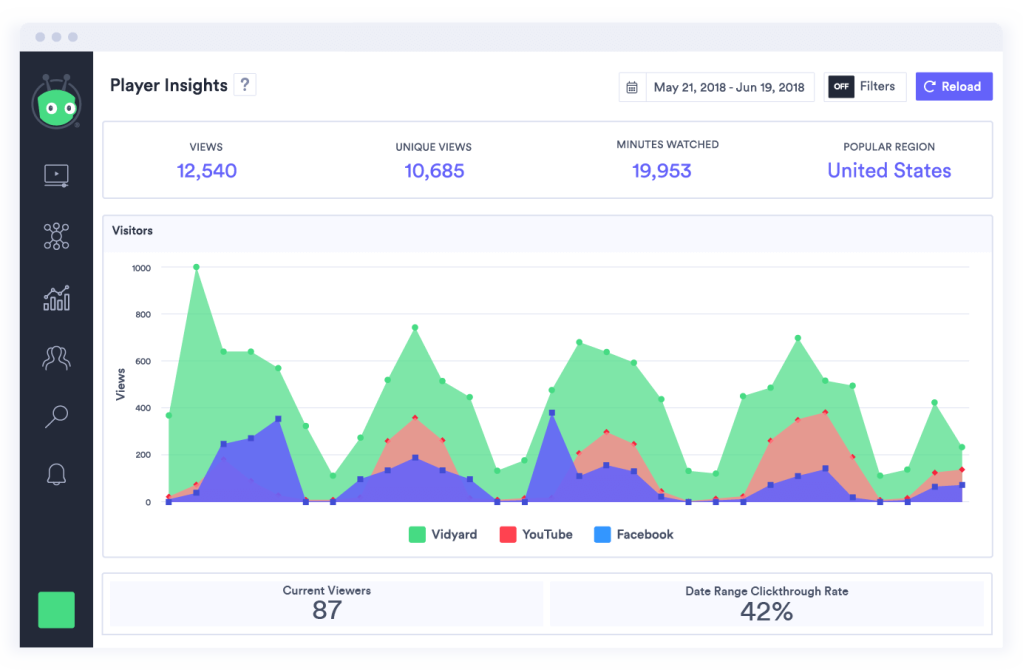 Company Background:
Vidyard is an all-in-one video platform built for businesses. They offer three major packages: marketing, sales, and corporate communications. Vidyard's services are meant to help businesses put out their videos in a professional manner and to help them take advantage of being a business operating in a growingly digital world.
Basic Functionality:
Vidyard is a great solution for streaming videos for marketing, sales, and corporate communications purposes. Their mission is to help their users turn viewers into customers.
Key Features:
Video hosting

Interactive playback experiences

Video SEO

Video personalization and creation

Video for email

Drive next steps

Video playlists

Custom video-sharing pages

Video analytics and notifications

Video hubs

Security controls
Pros:
Great analytics and data reports

Customer service

Wide variety of features

Robust user community
Cons:
Backend not user friendly

Inconsistently positive user experience

No China delivery
Pricing:
There are a few ways to break down Vidyard's pricing. They have three main umbrellas that their services fall under based on the user's purpose for using video streaming.
The first is Marketing. The five Marketing packages include Free Forever which is totally free, the Pro package for $15/month, the Starter package for $150/month, the Plus package which is $850/month, and the Enterprise package which has custom pricing.
The Sales packages also include the complimentary Free Forever package, the Pro package which costs $15/month, the Starter which is $80/month, and custom priced Enterprise packages.
The Corporate Communications packages are all priced on a case-by-case basis.
Best Use Cases:
Streaming Video for Sales

Enterprise Video Hosting

Marketing Video Hosting
10. SproutVideo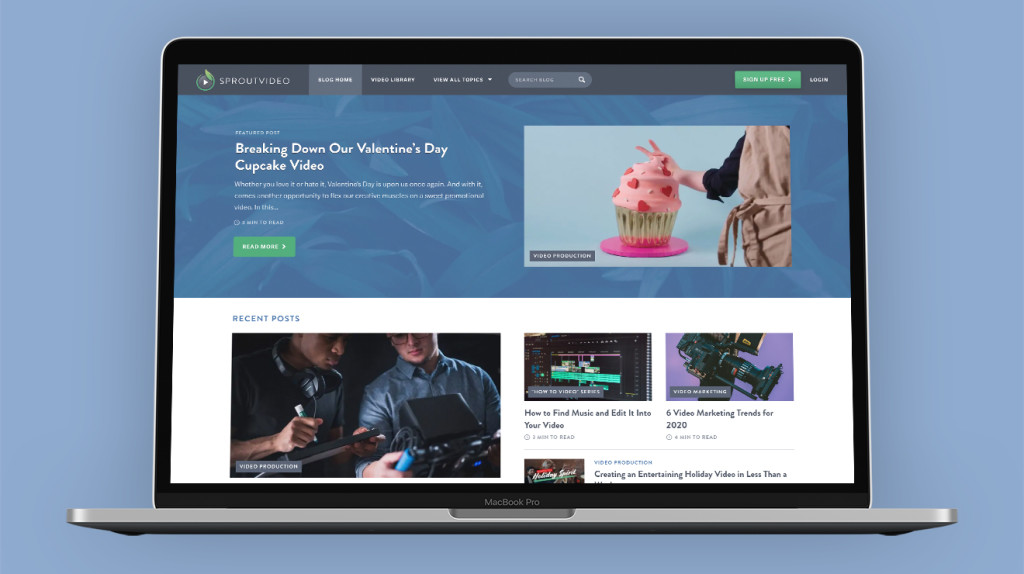 Company Background:
SproutVideo is a streaming video provider that offers live and on-demand video hosting for a variety of broadcasting needs.
Their plans range from simple and budget-friendly to fully-loaded with a higher price tag.
Basic Functionality:
SproutVideo is a unified streaming solution for both live and VOD content.
Key Features:
API access

Live chat support for every plan

Live streaming and VOD hosting

Powerful privacy and security 
Pros:
Detailed analytics

Wide range of customization options

Plans for every budget
Cons:
Reports of inadequate SEO

Some buffering because of slow playback caching

Limited storage
Pricing:
SproutVideo offers four pricing plans: Seed ($24.99/month), Sprout ($54.99/month), Tree ($199.99/month) and Forest ($499.99/month).
The Seed plan is best suited for broadcasters who don't need many tools or functions. The Forest plan is fully loaded with the features an advanced broadcaster would look for.
SproutVideo has a great breakdown and comparison of their plans on their pricing page.
You can try SproutVideo for free for 30 days. 
Best Use Cases:
Live Video Streaming

On-Demand Video Hosting

Streaming Solution for Enterprises
Conclusion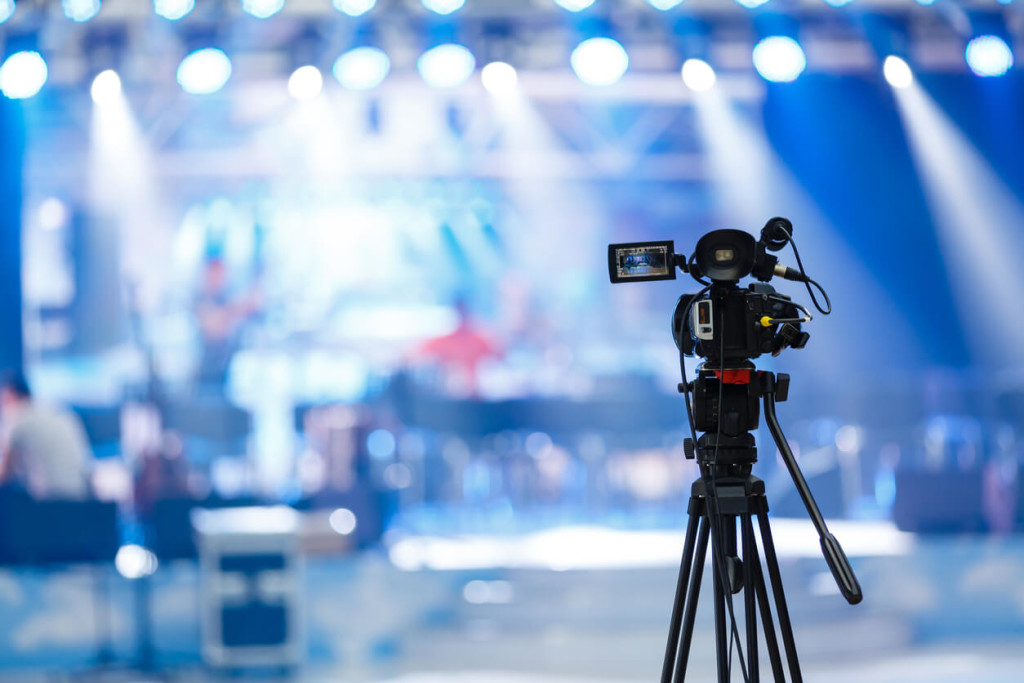 Since video streaming is ever-growing, it is wise for businesses to jump on board when it makes sense. Video content is a magnificent way to reach your audience in both product and service-based industries.
These nine streaming video hosting services come with their own sets of benefits and packages. Once you determine your business's goals, needs, and budget, choosing the perfect video hosting service will be a breeze.
We hope that this article has educated you about the best steaming video hosting services on the market today. And remember — it's worth taking the time to review and compare your options and needs before committing to a platform.
Ready to start broadcasting live today? You can take advantage of Dacast's streaming video hosting services with our 30-day free trial (no credit card required). Just click the button below to sign up. We'll have you up and streaming in a matter of minutes!
 
Any questions or feedback about this streaming video hosting services review? Let us know in the comment section down below! We love to hear from our readers, and we will get back to you as soon as we can.
For regular tips on live streaming in a community of experts, as well as exclusive offers, you're invited to join our LinkedIn group.
Thanks for reading, and best of luck with your broadcasts.