As a broadcaster, deciding whether to live stream your content or release it on a video on demand platform is one of the more important choices you'll have to make.
Once you understand the difference between live and VOD streaming, you have to wade through the various features on all the available VOD platforms. With so many choices, it can feel as if you're going to be researching all the options forever.
This post can help guide you through the process of choosing the right VOD platform by walking through the key features to look for in an on demand video streaming solution and comparing five of the top platforms on the market.
Table of Contents:
What is On Demand Video Streaming?

VOD vs. Live Streaming

5 Features to Look for in a VOD Hosting Platform

Video CMS

VOD Transcoding

Video Monetization

White-Label Video Player

Video Security

Comparing 5 Top On Demand Video Streaming Platforms

Conclusion
What is On Demand Video Streaming?
On demand video streaming is a popular method of delivering video content online, allowing the user to access content any time they want.
From instructional fitness videos to recorded lectures, VOD gives viewers the ability to select the video they want to watch even years after it's created, broadening your content's overall reach long-term. Rather than having to ensure they're watching right when you live stream, VOD fits the schedule of the user and even allows them to re-watch videos they may want to see again.
VOD vs. Live Streaming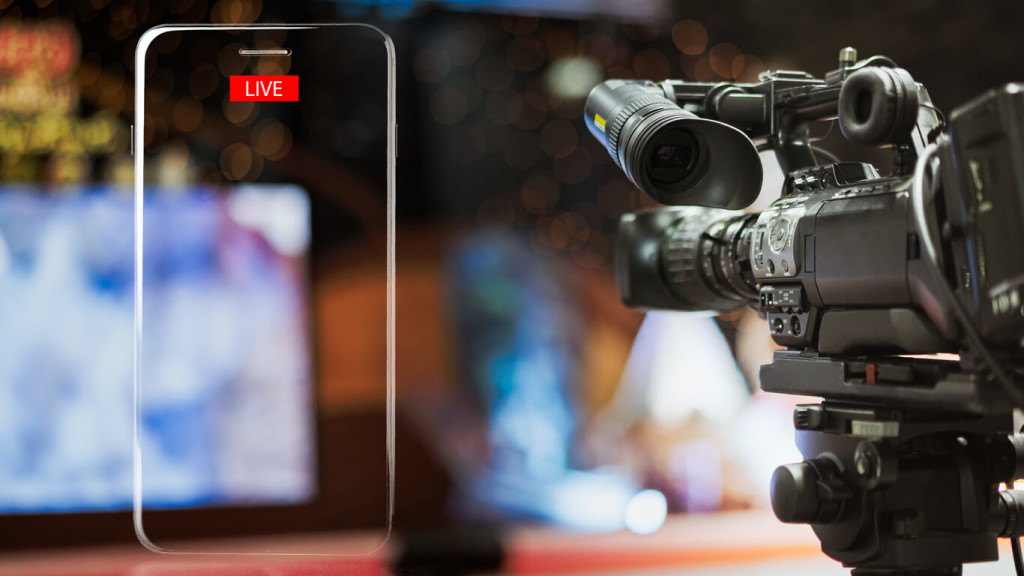 Selecting a delivery method for your video content comes down to choosing between two things: VOD and live streaming.
While both VOD and live content are indeed streamed over the internet, the similarities stop there.
Live streaming means that content is playable as it's created, or with a very small delay, going directly from your camera to the user's device of choice. This immediate consumption means that live-streamed video often is less highly produced than other content.
If viewers miss a live stream that isn't recorded and distributed in another manner, such as using VOD, then they miss out on the content. Additionally, many live streams have limited or non-existent pause and rewind features, causing viewers to miss out on potentially important or interesting information.
VOD, on the other hand, makes video content available to viewers at any time they choose, on any device. Whether it's hours, weeks, or even years after a piece of content is first uploaded, as long as it is located somewhere on the internet, viewers can find and watch the video.
They can pause, rewind, replay, and rewatch all or portions of the content. VOD content also has the option to be more polished, as producers can edit their videos before uploading it for viewing.
VOD also has the benefit of taking live streamed content — as long as the content was recorded during the live stream — and making it accessible on an on demand basis, allowing those who missed the live stream to catch up.
5 Features to Look for in a VOD Hosting Platform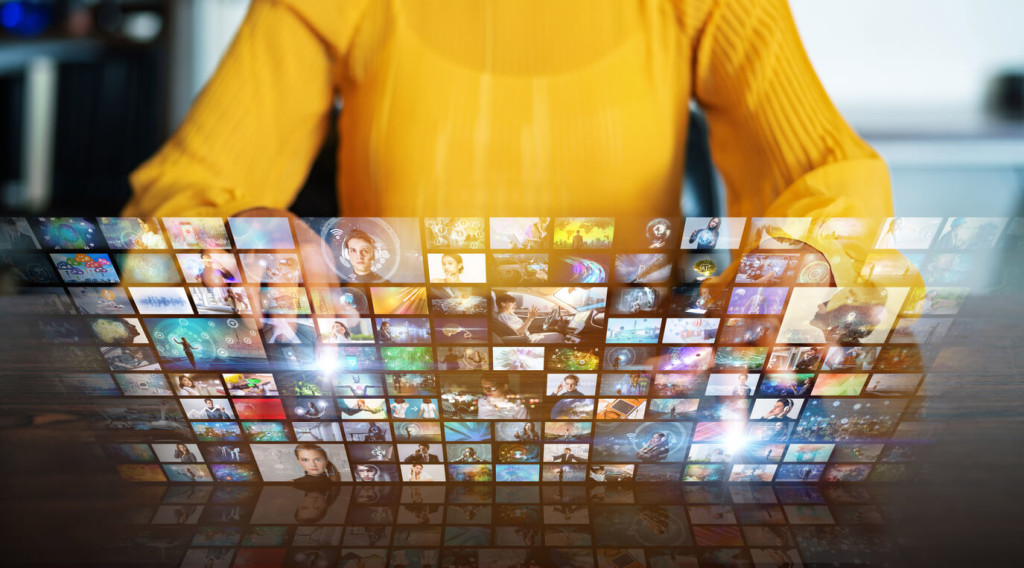 All VOD streaming platforms are not equal. Each has its own unique features and failures, but there are five main things you should look for in choosing the right VOD platform for you:
Video CMS

VOD transcoding

Video monetization

White-label video player

Video privacy and security
By ensuring that the platform you choose has, at minimum, these five features, getting yourself set up to share VOD content shouldn't be a major hassle.
Video CMS
A robust video content management system (CMS) is an essential feature of any VOD platform. Part of being able to effectively share your VOD content is keeping it all well-organized and individually tagging all your videos. This way, if a user searches for a video on a specific topic, your video is much easier for them to find and you are more likely to get that viewer.
Tagging by category and subcategory also allows for the creation of smart playlists, which suggest to viewers other videos related to those they're already watching. This keeps people on your website, watching your content longer than if your video CMS did not have this functionality.
VOD Transcoding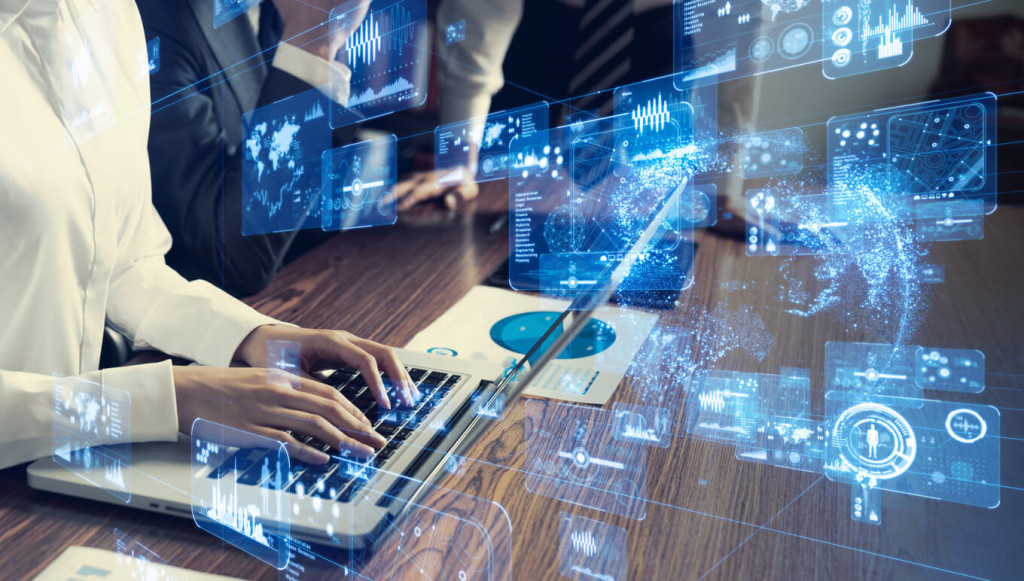 The file size that plays well on the desktop computer of someone watching with a stable internet connection is not going to be the file size that will play smoothly on a mobile device in spotty WiFi.
To allow your videos to play at the highest quality necessary for each individual viewer's device needs, your videos need to be available in multiple file sizes. With automatic VOD transcoding, your VOD streaming platform creates these separate files without you having to manually save each version.
Create a group of encoder settings and let the transcoder handle everything else, serving up the most optimized file type for the device each viewer is using to watch your videos.
Video Monetization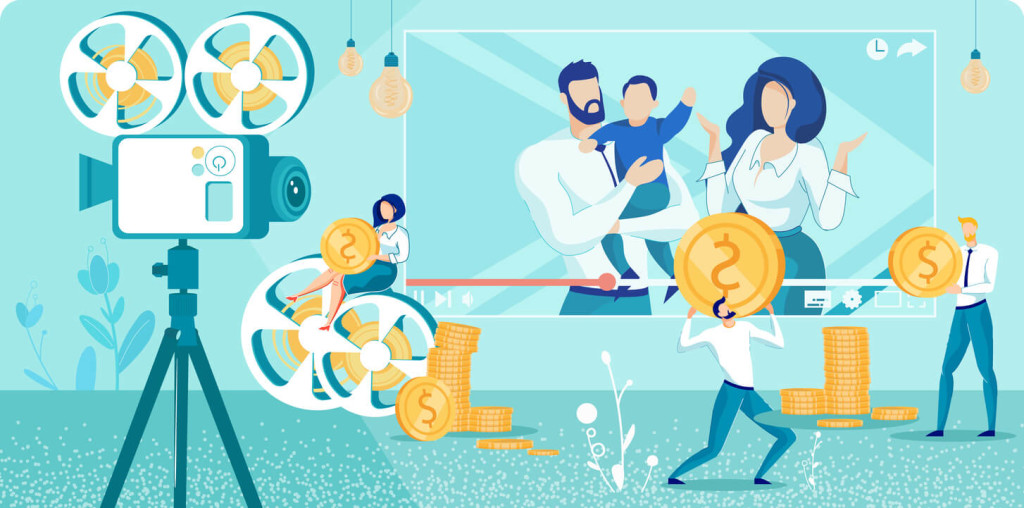 Part of offering your content on demand is the ability to monetize your videos in a manner you choose.
The right VOD platform allows you to separate out the content that doesn't need to be monetized, such as employee training videos, from that which you'll use to drive revenue. In addition, your VOD platform should give you the option to monetize your videos as you see fit, selecting SVOD, TVOD, or AVOD monetization models. Lastly, it should also offer an integrated paywall solution for users to submit online payments and for you to securely collect revenue.
SVOD – Subscription Video on Demand
Selecting SVOD monetization means you will monetize your content in a similar manner as a television package. Your viewers will pay a subscription fee that allows them to watch as much of your content as they desire.
TVOD – Transactional Video on Demand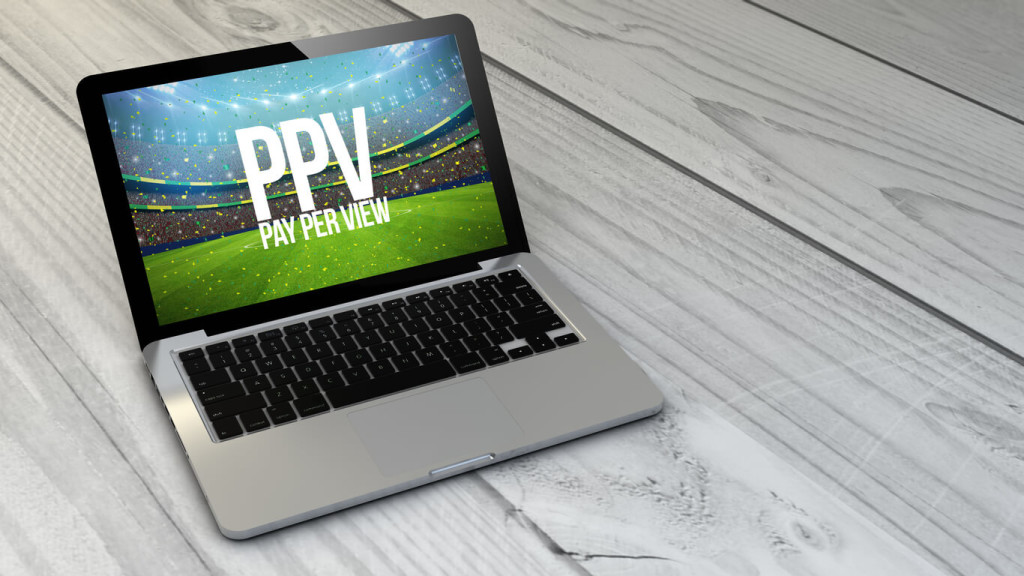 If you have specific videos or video series you want to monetize, TVOD, or pay per view streaming, is most likely be the best model for you. With this model, viewers pay a set price for access to each video or series of videos, and you can set different price points for bundles of content.
AVOD – Advertising Video on Demand
Some creators choose to make their content free for viewers to access but elect to monetize that content by showing advertisements during the video. If this is a model that appeals to you, AVOD monetization is the method that will best suit your needs.
White-Label Video Player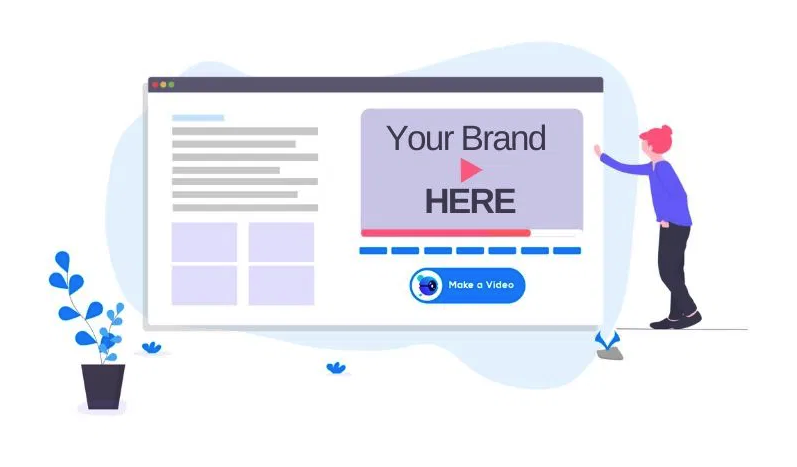 You may be great at planning and creating amazing video content, but you're worried about a VOD platform that's too technical and complicated. This is why plug-and-play platforms such as YouTube appeal to so many content creators.
However, when using someone else's platform, you're at the mercy of the way that platform decides to distribute your content. You have no control over the advertisements that are played, what videos are suggested to viewers and more, and your videos will still carry the brand of the third-party platform. And, if you want to embed and share videos on your own website or on social media, you may be limited.
By choosing a VOD platform with a white-label solution, you have the ease of these plug-and-play platforms but greater control over their distribution.
Remove the third-party branding on your videos and replace them with your own logo, keeping your branding consistent across all platforms. You also should be able to embed the video player into your website and easily share it to social media.
Video Security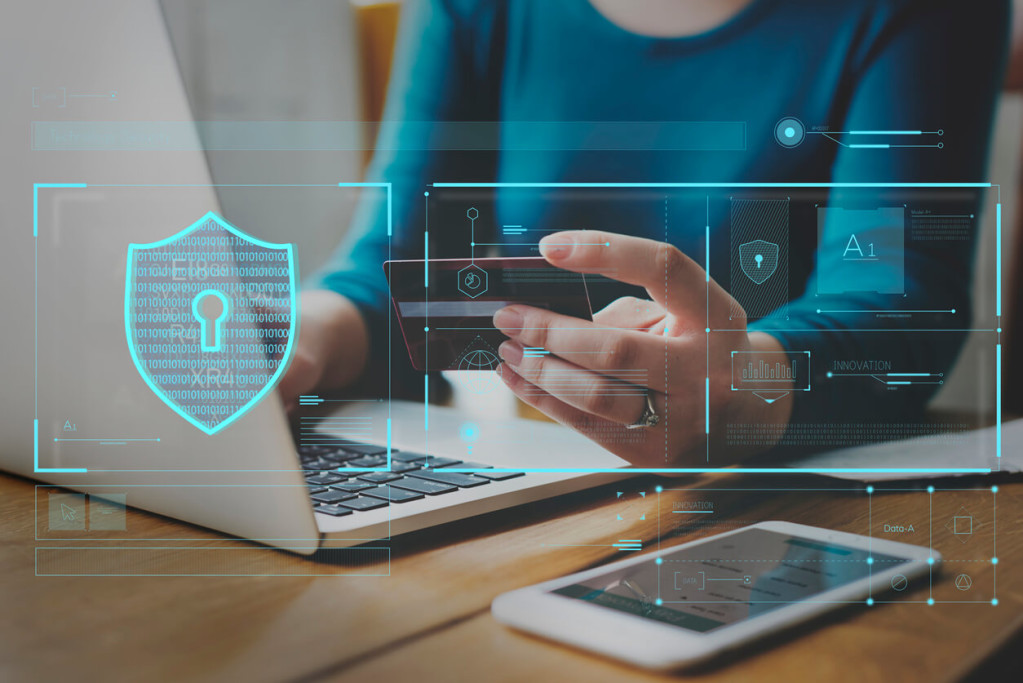 Trust is huge when you want your viewers to keep coming back to view your content, and you need the help of your VOD streaming platform to help build that trust.
You don't want your users to be worried their devices will be bogged down by malware or spyware when they visit your site. Thanks to HTTPS secure uploading and delivery, you can give your users peace of mind that their devices are safe when they're viewing your content and submitting payments online through integrated paywalls.
Comparing 5 Top On Demand Video Streaming Platforms
With these five key features in mind, let's take a look at five of the top professional-grade live and on demand video streaming platforms:
1. Dacast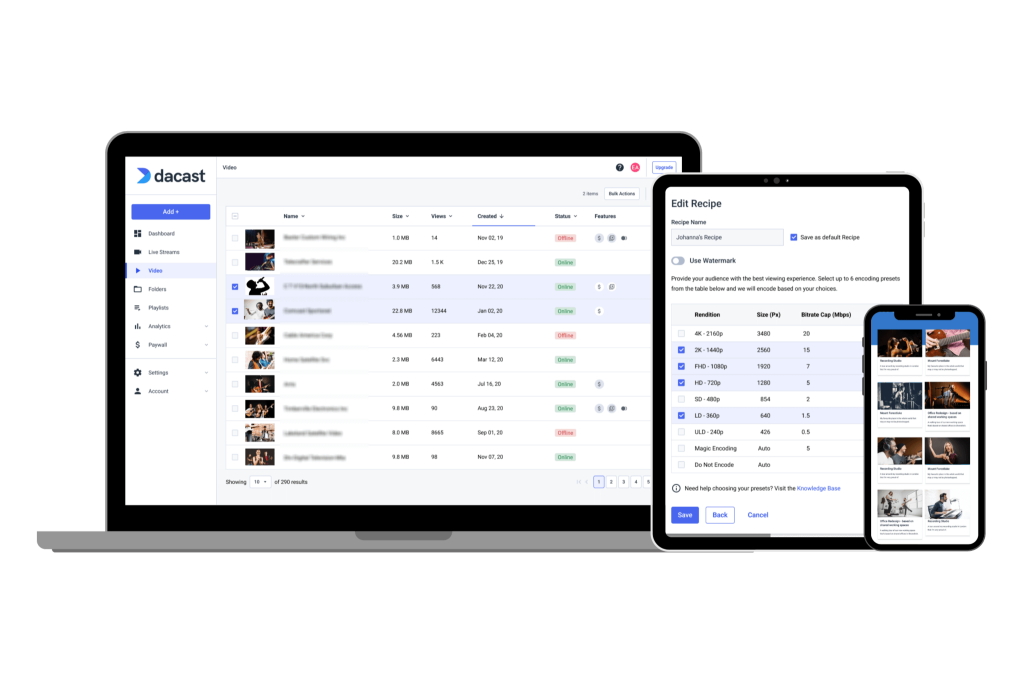 Basic Functionality:
Dacast offers comprehensive live streaming and on demand video services. Users are able to embed videos on their own websites, retaining complete control of their content. Some of the key features of Dacast include an integrated paywall, password protection, an analytics dashboard, and referrer restriction.
Key Features: 
Pros:
Cons:
Figuring out all available features can take some time
Pricing:
There are three levels of live streaming pricing plans with Dacast: Starter, Scale, and Event.
The Starter Plan is best for beginners, or those just testing the waters of VOD streaming, offering 1,000 GB of bandwidth, 50GB of storage, and costing $39 per month billed annually.
If you've got a fair amount of content banked and want to build an audience, the Scale Plan may be a better fit. This plan offers 24 TB GB of bandwidth, 1 TB of storage per year, and costs $188 per month billed annually. 
The Event Plan is for organizations that stream events once, or occasionally, or on an irregular schedule, and don't want to have a recurring monthly payment. It offers 6,000 GB of bandwidth, 50 GB of storage, and costs just $63 per month billed annually. You can access this bandwidth for up to one year after purchase, making it an economical option for occasional event streamers.
For those creators who need more storage, greater bandwidth, or large amounts of viewing capacity, Dacast does offer custom-priced high-volume plans. Please contact us for more information.
2. IBM Cloud Video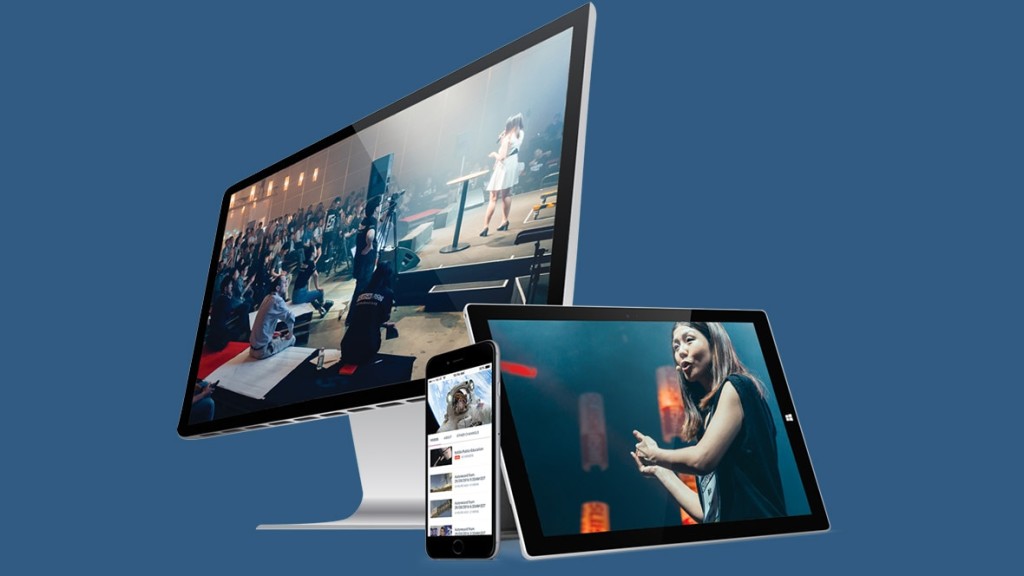 Previously known as UStream, IBM Cloud Video offers both live streaming and VOD streaming. It is considered reliable but is among the more expensive options on the market, so it is better suited for enterprises and organizations with large budgets.
Basic Functionality:
IBM Cloud Video offers hosting solutions for both live streaming and on demand video.
Key Features:
Very reliable platform

An internal content delivery server

Great customer service

Built for enterprises and large organizations
Pros:
Great for professional broadcasters, with lots of professional features

Reliable, helpful technical support

Hong Kong (China) video hosting
Cons:
Only offers ad-based monetization

Expensive, so not suited for businesses and organizations with smaller budgets

Some limitations with the internal content delivery server

Some important features are only available with the most expensive plans
Pricing:
IBM Cloud Video offers three levels of plans:
Silver plan

: $99+ per month

Gold plan

: $499+ per month

Platinum plan

: $999+ per month
3. Vimeo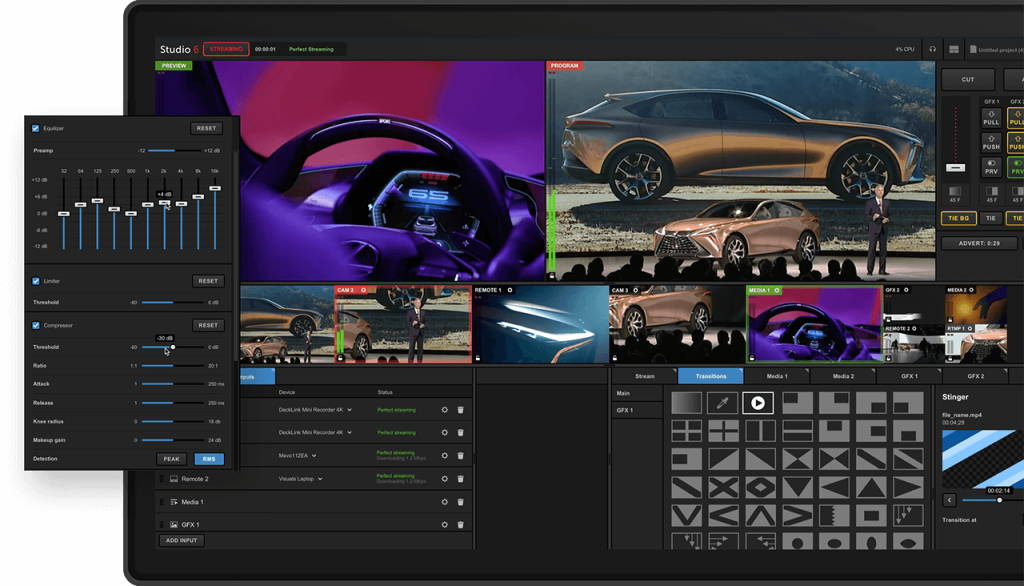 Vimeo's name may seem familiar from its days as a B2C platform similar to YouTube. Now, it serves a professional clientele and offers both live streaming and VOD.
Basic Functionality:
Vimeo is a widely accessible, easy-to-use platform for both VOD and live streaming.
Key Features:
Editing features included

Pay only for what you use

Pay-per-view and subscriptions available

Ad-free streaming

Easy-to-use API

Analytics built-in
Pros:
User-friendly

Options for monetization

Customizable video players

VOD and live streaming

Built-in transcoding
Cons:
Monetizing your content costs up to 10% of your revenue

Add-on features can get expensive

No China video delivery
Pricing:
Vimeo offers four levels of pricing plans:
Plus: $7

Pro: $20

Business: $50

Premium: $75
4. Brightcove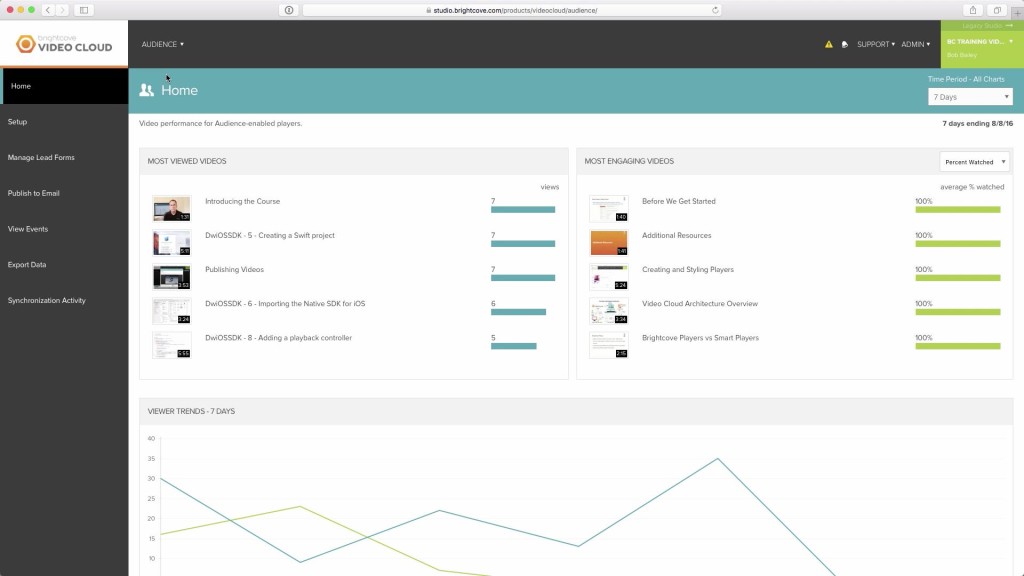 Brightcove is a VOD streaming platform that emphasizes marketing and monetization. It is considered a luxury B2B platform better suited to large enterprises.
Basic Functionality:
Brightcove is a premium B2B video streaming platform emphasizing monetization and marketing.
Key Features:
Marketing and advertising tools

Live streaming

Video analytics built-in

Video monetization

Customize your experience with app integrations
Pros:
Privacy and security tools

Multiple apps and integrations

Reliable technical support

Built-in editing features
Cons:
Additional cost for 24/7 technical support

Difficult for beginners to use
Pricing:
All of Brightcove's packages are custom-priced. Contact them for pricing to meet your needs.
5. Wowza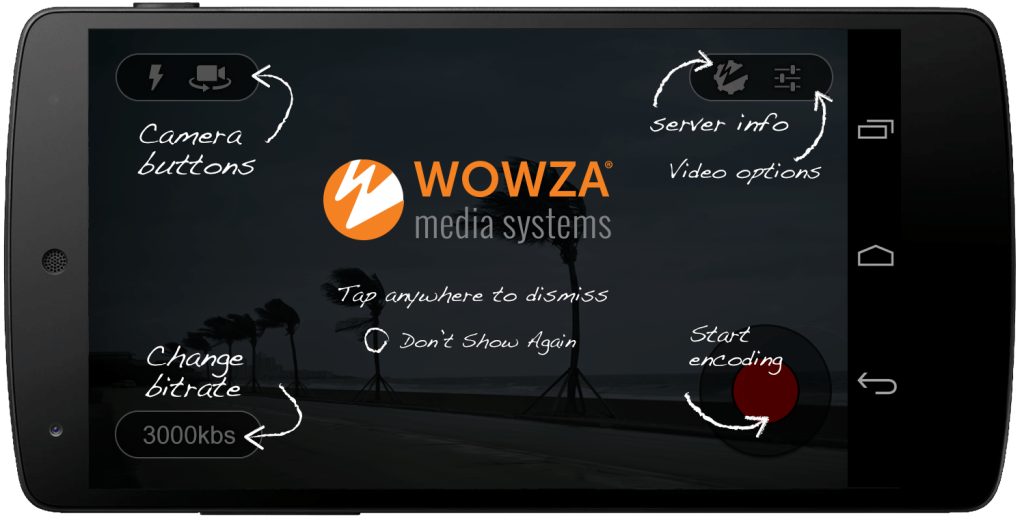 Founded in 2005, Wowza offers video streaming for broadcasters from a wide range of budgets. Some of Wowza's plans are more expensive and designed for enterprises, they do offer a variety of other more budget-friendly options.
Wowza is well-known for its security features.
Basic Functionality:
Wowza offers two main products. The first is the Wowza Streaming Engine. This product is widely used in the industry for self-hosted streaming. The second is the Wowza Streaming Cloud offering. This functionality includes a variety of features aimed at providing low-latency content access to global audiences. 
Key Features:
Video content management

Exceptional security features

High-definition streaming support

Video API

Simulcasting capabilities
Pros:
Streaming on most devices supported

Powerful security features

Live streaming and on demand streaming options

Connects to Google Analytics

China video delivery
Cons:
Monetization only available through integrations
Pricing:
There are five main pricing tiers for Wowza:
Live Event plan: $49 per month

Standard plan: $199 per month

Plus plan: $499 per month

Enterprise: Custom pricing
Conclusion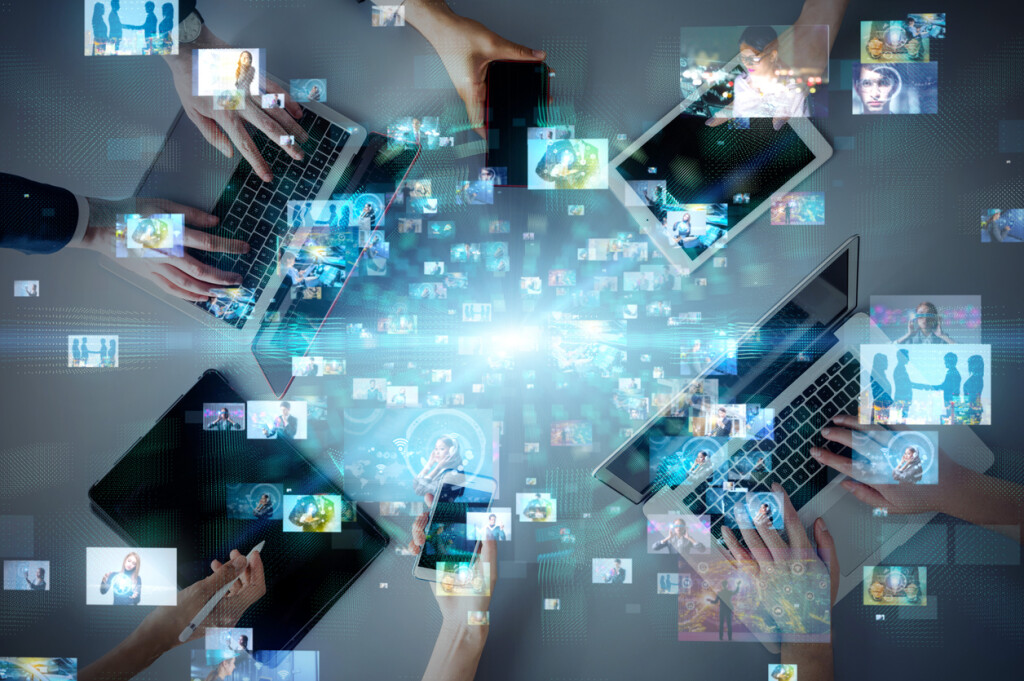 The method you use to deliver your content is almost as important as the content itself. Choosing VOD streaming allows you the greatest access to a lasting audience, giving viewers the option to view your content whenever they want and giving them the ability to pause and rewatch on their own schedule.
Choosing the right on demand video streaming platform — including Dacast, which won Best Small/Medium Business Platform from the 2019 Streaming Media Readers' Choice Awards — makes your job of streaming and sharing your content much easier.
If you want to take the next step in VOD streaming, try Dacast free for 30 days. You'll have no long-term contract to sign and no hefty start-up fees to pay, and we don't require a credit card to get started.
Thanks for reading. If you have any questions or experiences to share, please let us know in the comments. And for regular tips on live streaming, join our LinkedIn group.